EPFO has recently launched SMS services for its members who have Universal Account Number (UAN).  In 2014, EPFO launched the UAN facility where a portable Universal Account Number was allotted to all the members. Once you active your UAN, you can use different services such as PF balabce, PF passbook, monthly SMS of contributions etc. Read my article on How to activate your PF UAN.
The newly launched EPFO Short Code SMS Service is available only to those members who have activated their UAN (Universal Account Number).
To use this new SMS facility, the member should have the details like Aadhaar, PAN and bank account digitally approved and provided by the employer.
How to use this new SMS facility for PF
Please note that you can only use this facility, if you have PF UAN.It you dont have PF UAN, you can activate your PA UAN.  Else you can check your PF Balance online
You need to send the SMS in predefined format from your mobile number registered during UAN activation. The EPFO on receipt of such SMS will send the members details available with EPFO along with details of KYC seeded, Last Contribution and Total PF Balance.
You need to send the message to 77382 99899 in the format – EPFOHO UAN <LAN>  where <LAN> is first three characters of preferred language.
Language – The Members has been given an option to know the details in 10 different Indian languages namely English, Hindi, Telugu, Punjabi, Gujarati, Marathi, Kannada, Tamil, Malayalam and Bengali
For example, if  you would like to receive SMS in English, you should send an SMS as EPFOHO UAN ENG to 77382 99899.  
If  you would like to receive SMS in HINDI, you should send an SMS as EPFOHO UAN HIN to 77382 99899.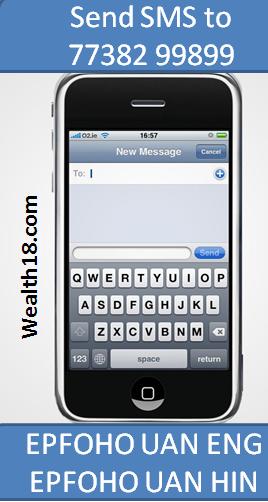 If you are facing any issues you can contact EPFO helpdesk service at toll free no. 1800118005 from 09:15 AM to 05:45 PM on all seven days for any query relating to UAN / KYC Services.
In my previous post, I explained the following:
How to check PF balance online and get the balance on SMS
How to check PF ePassbook Online
How to activate UAN and check PF balance via UAN