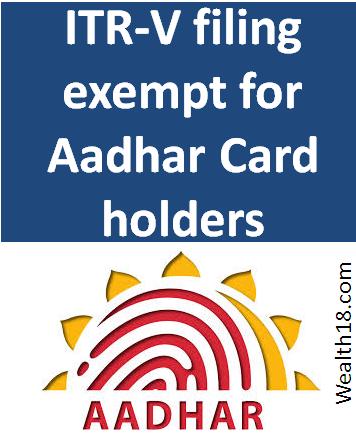 CBDT recently announced that taxpayers who file their income tax returns online & have Aadhar card, they will no longer need to send the ITR V paper acknowledgement by post to CPC Bangalore.
This will make the online filing procedure truly paperless even for those who don't have digital signatures.
Current Process
Till now, online filing was paperless only if the person had a digital signature.
Taxpayers who did not have a digital signature had to post a physical copy of the ITR-V to the CPC Bengaluru within 120 days of filing tax returns online.  ITR-V had to be signed and printed properly so that the bar code was clearly visible.
New Process
Instead of manual verification, a new Electronic Verification Code has been introduced to verify the e-returns. For that ou will have to mention their Aadhar card number in ITR form, and tax-payer will get an One time password (OTP) on their mobile for verification. With the introduction of this new system, things will be simplified and even faster.
You need to enter your Aadhar number when filing the returns online

UIDAI will send a One time password (OTP) to your registered mobile number with PAN or Income tax department.

You need to enter the OTP on the efiling form and submit.You will get acknowledgement on your email.

There is no need to send hard copy of ITR 5
What if you don't have Aadhar Card ?
Don't worry. You can always send the physical ITR V to CPC, Bangalore like you did earlier.
You can do that even if you have Aadhar card. This new system of verification is optional and just an alternative way for those who have Aadhar card.
Share our views about this new facility? Do you have Aadhar card? Whether your correct mobile number is registered in PAN.