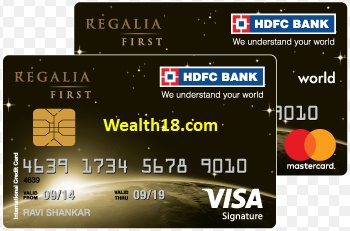 HDFC Regalia First is  a premium credit card by HDFC Bank that provides many benefits around travel and dining. 
HDFC Regalia First Credit card Benefits
Complimentary International Airport Lounge Access:    Get a complimentary Priority Pass Membership for preferential access to over 1000+ airport lounges around the world. Enjoy refreshments and use facilities including phones, faxes, and Internet and conference rooms.
The Add on member is also eligible for a Priority Pass membership. The Primary card holder and the Add on member can jointly avail 3 complimentary access to Priority Pass lounges outside India in a calendar year.
Normally, complementary access is for primary holder only, but this credit card allows complementary access to add-on card holders also, which is a good offer.
Domestic Airport Lounge Access:  Unfortunately, there is no complementary lounge access within India using PriotyPass. All Lounge visits within India using priority pass will be charged at US $27 + GST as applicable per person per visit. 
For Lounge visits within India, Regalia Primary Cardholders can avail 8 complimentary lounge access per calendar year through Regalia First Visa/Mastercard Credit Card Lounge program (Please swipe your Regalia Credit card to avail the complimentary lounge access). 
Min 15% off at restaurants:  As an HDFC Bank Regalia First Credit Card holder, you are entitled to Exclusive Dining Privileges at the finest hotel chains in India – with minimum discount of 15% across 3000+ restaurants 
Lowest foreign currency markup fee:   HDFC Bank Regalia First Credit Card offers you the lowest markup fee of 2% on all foreign currency transactions.
Fuel fees Waiver:  Convenience fee waiver of 1% on all fuel transactions. The waiver on convenience fee on all fuel transactions upto INR 1,00, 000(Maximum waiver of INR 1000 per statement cycle, Minimum transaction of INR 400).  Fuel surcharge varies from 2.5% to 1% of fuel transaction amount. The rate of surcharge may vary depending on the fuel station and their acquiring bank.
Rewards Collection
Earn 4 Reward Points* for every Rs. 150 spent on your HDFC Bank Regalia First Credit Card, with no conditions attached
Exceptions:  Reward points will not be accrued for fuel transactions, EasyEMI and e-wallet loading transactions, SmartEMI, Insurance transactions more than Rs 2000.
Enjoy 10X Reward Points on all purchases in Smartbuy   while you Compare and Shop, Compare and Fly and with brands like Flipkart, Cleartrip & Yatra, etc
July 2018 – Currently there is ongoing offer to get 5X reward points on BigBasket, Makemytrip, SnapDeal, RedBus, SpiceJet, GoIBIBIO
Rewards Redemption
You can redeem reward points at 
Travel bookings on  www.hdfcbankregalia.com    ( 1 reward point = Rs 0.50) 
Exciting gifts from an exclusive rewards catalogue   

( Electronics,  evouchers for shopping, restaurants etc)  ( 1 reward point = approx Rs 0.5) 

AirMiles of leading domestic and international airlines
HDFC Regalia First points value –  Based on the reward points and redemption value (HDFCBank Regalia site) – you will get a cashback of 1.33% on normal spending. Cashback will be equivalent to 13.33% for spending on HDFC SmartBuy Portal
On Regalia site, the point value is Rs 0.50 and you earn 4  points on spent of Rs 150.
Insurance included in the credit card
Accidental death: In case of death in an air accident, the nominated next of kin will receive a compensation of Rs 50 lakhs. Note that Air Accident cover will be activated if the tickets are purchased using HDFC Bank Regalia First credit cards.
Medical emergency cover: The card holder is covered up to Rs 10 lakh against medical emergencies during travel abroad
HDFC Regalia First Card Eligibility :  The HDFC Bank Regalia First Card is available for following: 
Salaried:  Age: Min 21 yrs & Max 60 Yrs, Income: Gross Monthly Income> Rs 60,000

Self Employed:  Age: Min 21 yrs & Max 65 Yrs, Income: ITR > Rs 7.2 Lakhs per annum
Fees
First year fee is Rs 1000  and   Annual renewal membership fee is Rs 1000+GST. 
Welcome Benefit of 1000 Reward Points and renewal benefit of 1000 Reward Points
The customer however can enjoy waiver of the renewal fee if the spends are minimum Rs 1,00,000 within the 12 months (i.e. approx Rs 8333 per month).
Summary
This card will be useful for the people are travelling frequently (or book flights / hotels for family) as the best value on reward points redemption is on flight and hotel booking. Major benefits are related to lounge access for primary and add-on card holders.  
Also, note that you get the 1000 reward points every year (if renewal fees is paid), so effectively the card fee is half to you. 
I will write another post to compare the benefits of HDFC Regalia  First credit card against HDFC Regalia Card,  HDFC Infinia Card, Diners Black credit card, Amex Platinum card.
There are many credit cards offered by HDFC bank with different features including discount on movies, groceries, dining as well as air travel and hotels, free international and domestic lounge access. Some of the cards offers redemption rewards equivalent to 13%-33% cashback, that's pretty amazing. See list of all credit cards offered by HDFC Bank and check which one you should go for.
How useful was this article?
Click on a star to rate it!
Average rating / 5. Vote count:
Note:- We have now replaced the blog comment section with a full discussion forum where you can raise all your queries. Please visit the forum Wealth18.com Discussion Forum for all your queries and participation