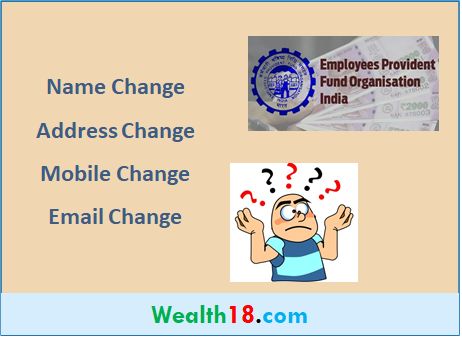 Many PF members face challenges at the time of PF transfer or PF withdrawal due to errors in the name, date of birth etc.
Have you faced similar issue? Do you want to change the name or date of birth in your PF account? Have you changed your surname after marriage and the new name is in bank account but not in PF account?
In this post, I am providing more details around process and form to change and update your details in PF account – Name, Date of Birth, Communication Address, Email account, Mobile Number etc.
A.  Change of Name in EPF Account – Online Method – New
You can now apply to make changes online and you need following:
1. Active UAN, 
2. Access to EPFO's Unified Portal website, 
3. Aadhaar number, 
4. Employer needs to forward the request online to EPFO. 
Step by Step process to make change in the name in your PF account 
Step 2:  Click on "Manage>Modify Basic Details".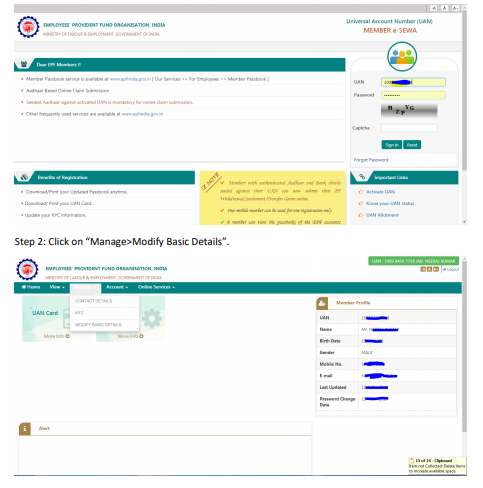 Step 3: Now, provide the correct details as per Aadhaar (System will verify the details entered with UIDAI- Aadhaar Data)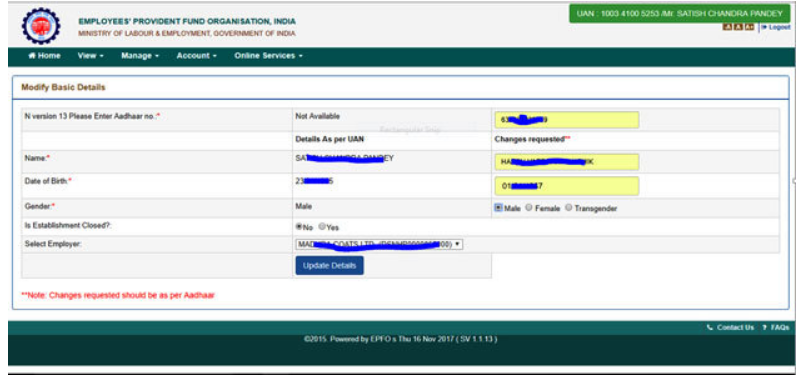 Step 4: On clicking "Update Details" on the previous screen, request will be submitted to the employer for further approval. Before submission by employer, employee can withdraw the request by pressing "Delete Request" 

Process to be followed by employer
1: Employer will login to Employer Interface of Unified Portal  and can view the change requests submitted by employees by clicking on "Member>Details Change Request" 

2: Employer can view the online requests and then accept or reject with remarks.  After approval of request, employer can see the latest status of request. 

3: After approval of request by employer, request will appear as a task in login of Dealing Hand, of concerned EPFO office, in the Field Office Interface of Unified Portal.  Dealing Hand can login and view the online change requests by clicking "Member>Details Change Request". 

4: After due verification, the Dealing Hand can submit his/her recommendations to the Section Supervisor. The Dealing Assistant can put the case either for Approval or Rejection by selecting the appropriate radio button, i.e., Recommended for Approval or Recommended for Rejection with proper remarks. In the same manner, the Section Supervisor can submit his/her recommendations to the regional provident fund commissioner (RPFC). Finally RPFC can Approve/Reject the case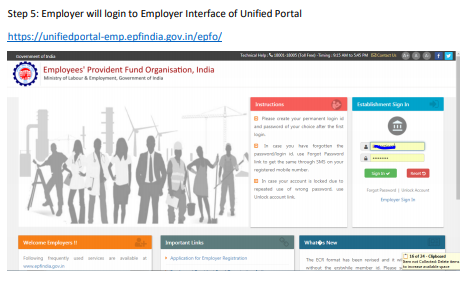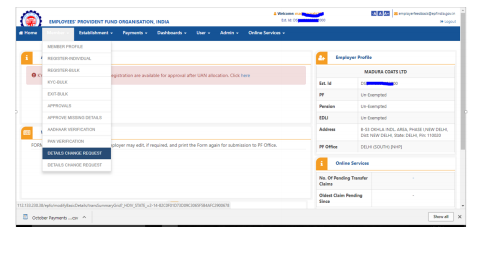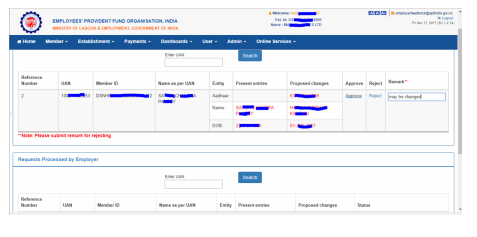 B.  Change of Name in EPF Account – Offline Method
If your name is incorrectly recorded in the EPF account or if you want to change it after your marriage, then you need to submit the details in the prescribed form (attached below) alongwith the copy of ID proof.
The form needs to be signed by you as well as your employer with company seal. You need to submit the form to your company and the company will send it to the regional PF office.
ID proof required to change the name in your PF account:
PAN Card

Voters Identity Card

Passport

Driving license

ESIC Identity Card

Aadhaar Card

Bank passbook copy/Post Office Passbook.

Ration card

Any school/education certificate, Certificate issued by Registrar of Birth & Death.

Certificate based on the service records of the Central/State Government Organization.

Copy of electricity/water/telephone bill in the name of the claimant.

Letter from a recognized public authority or public servant verifying the identity and residence of the member to the satisfaction of the competent authority
As of now it is not possible to submit the name change request online. You need to submit the physical form. May be in future, EPFO may launch this facility to submit the name change request online.
If you have changed your surname after marriage, you can also change it in EPFO database using the form above. Make sure that the name is EPFO is same as name in Bank Account also, otherwise there may be an issue at the time of withdrawal.
See the offline form that you need to fill in to update the records – name change correction form
Change of Date of Birth in EPFO records
In case the date of birth is not recorded correctly in EPFO records, you can submit request to correct it. For changing date of birth in EPFO database, you need to same form and process as mentioned above (for name change) and provide date of birth proof. You can submit the same documents as mentioned in "Name Change "process as long as it contains date of birth also.
Verify if the change request for name and date of birth is processed correctly. You can check that by downloading the PF Passbook from UAN Portal – See link
Change of Email Address and Mobile number
You can update the email id and mobile number in EPFO records through UAN portal. You can login to the UAN portal and change these details.
Change in Contact Address
There is no such option to change the contact address. When you apply for PF transfer or PF withdrawal, you need to mention the current address on the form. The same is recorded by EPFO in their records.
If you have any queries related to change or update of name, adress, date of birth, email, mobile etc in PF records, please ask in the comment box below.