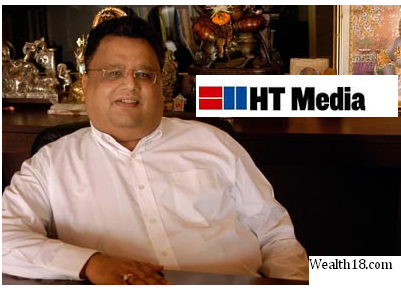 On 28-Feb-2014, Rakesh Jhunjhunwala's company Rare Enterprises bought 15 lakh shares in HT media for approx Rs 11 crore.
He bought the shares at average price of Rs 71.25 .  Following this , the shares of HT media spiked 8% and ended at Rs 77.50
During Dec 2013 quarter, HT Media had reported a Consolidated net sales of Rs 573 crore & consolidated net profit of Rs 67.02 crore
Market cap – Rs 1817 crore
The 52-week high of the share was Rs 123.70 and the 52-week low was Rs 69.50.
The company's trailing 12-month (TTM) EPS was at Rs 0.94 per share as per the quarter ended December 2013.  The stock's price-to-earnings (P/E) ratio was 82.45.
See Portfolio Holding of Rakesh JhunJhunwala