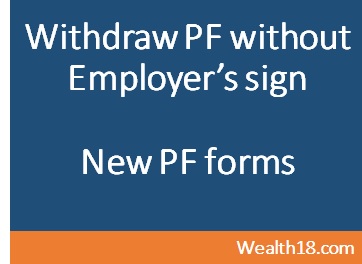 EPFO recently launched "New EPF Withdrawal Forms", ( Form 19 UAN, Form 10C UAN and Form 31 UAN) which can be used to withdraw PF amount without employer signature.  Employees will no longer need the approval of their employers to withdraw money from their Employees Provident Fund (EPF) corpus.
Conditions to use this new facility to withdraw PF without employer attestation:
You must have UAN number activated.  (See – How you can activate UAN)

You must link your Aadhaar number with UAN. 

You must provide your Bank details with UAN.

You KYC have been verified by your employer using digital signatures.
If you meet above conditions, then you can withdraw PF without the signature of your employer.
 "Employees whose details like Aadhaar number and bank account number have been seeded into their UAN and whose UAN has been activated, may submit claims in Form 19, Form l0C and Form 31 directly to the commissioner without attestation of their employers, in such form and manner as may be specified by the central provident fund commissioner, for fast settlement of claims," the EPFO order dated 1 December said.
Download new EPF withdrawal forms  – Form 19 UAN, Form 10C UAN and Form 31 UAN