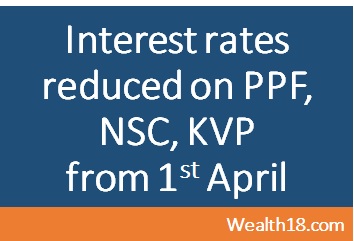 The government has reduced the rate of interest of small saving schemes from April 1 2016.
The popular Public Provident Fund (PPF) will yield 8.1% from April 1compared with 8.7% at present.

The Kisan Vikas Patra will fetch 7.8% against 8.7% now while

five-year National Savings Certificate (NSC) will offer an annual return of 8.1% against 8.5%.
See below the revised rates for the schemes :  
Rate of Interest on Small Savings

 

Current rate

Rates from April 1

PPF

8.7

8.1

Kisan Vikas Patra

8.7

7.8

Sukanya Samriddhi

9.2

8.6

Postal Savings Deposit

4

4

5 Year NSC

8.5

8.1

5 year Senior Citizen

9.3

8.6

5 year Monthly Income

8.4

7.8

 

 

 

 

 

 

Postal Deposits – 1 year

8.4

7.1

Postal Deposits – 2 year

8.4

7.2

Postal Deposits – 3 year

8.4

7.4

Postal Deposits – 5 year

8.5

7.9

5 Year recurring deposit

8.4

7.4

 

 

 

Wealth18.com
Currently the rates are set every year, but now the rates will reset every quarter to more closely align them with the market rates. These rates will be applicable till June 30.
The total corpus of all small savings scheme was around Rs.300,000 crore. The net addition this year was around Rs.65,000 crore till January 31. The SSA has around 85 lakh accounts with a deposit of around Rs.3,500 crore, while the KVP corpus is over Rs.21,000 crore,
This cut in interest rates will further reduce the return on your investments. If you are investing f or longer term, then you should also consider investing via Equity Mutual Finds. Please read the post on Best ELSS Tax Saving Mutual Funds to invest in 2016.