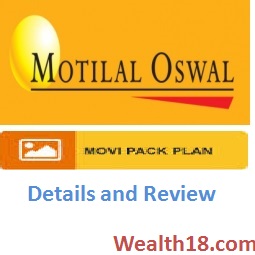 Motilal Oswal Value Index (MOVI) Pack Plan is a Systematic Transfer Plan
from

Motilal Oswal MOSt Ultra Short Term Bond Fund and

Motilal Oswal MOSt 10 Year Gilt Fund
to
Motilal Oswal MOSt Focused 25 Fund,

Motilal Oswal MOSt Focused Midcap 30 Fund and

Motilal Oswal MOSt Focused Multicap 35 Fund
The transfers will be enabled in the reverse as well.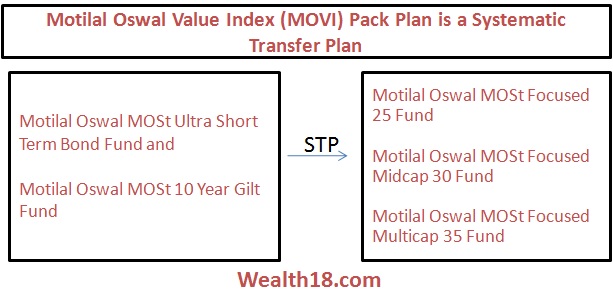 The plan enables allocation between debt and equity asset classes based on the Motilal Oswal Value Index (MOVI) levels. The aim is to take allocation decision based on the equity market valuations and not just market levels. 
The MOVI Index is calculated taking into account Price to Earnings, Price to Book and Dividend Yield of the CNX Nifty Index. NIFTY MOVI looks at the market levels in conjunction with the fundamentals of the markets and comes up with normalized (90 day average of MOVI index) levels of the market. The aim is to help investors gauge the investment attractiveness of the markets.
A low MOVI level indicates that the market valuation appears to be cheap and one may allocate a higher percentage of their investments to Equity as an asset class.

A high MOVI level indicates that the market valuation appears to be expensive and that one may reduce their equity allocation.
Allocation % on the basis of MOVI Levels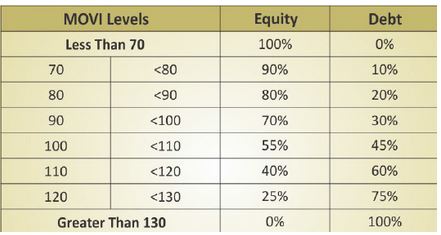 When and How the allocation will be done
The allocation date will be the 15th of every month.

Allocations can't be individual to each investment as the market value of previous investments may have changed, which means the original allocation may have changed which may not necessarily be in line with the allocation matrix. Hence, any new investment made will be allocated in a way whereby these market movements are taken into consideration.

Any deviation in allocations resulting from such part redemption will be aligned to the allocation matrix on the next date of allocation i.e. 15th of next month.
How to subscribe
Investors can subscribe to the MOVI Pack Plan by investing in MOSt Ultra Short Term Bond fund or Motilal Oswal MOSt 10 Year Gilt Fund of Motilal Oswal Asset Mutual Funds and enrolling for MOVI Pack Plan option in the enrolment form
Returns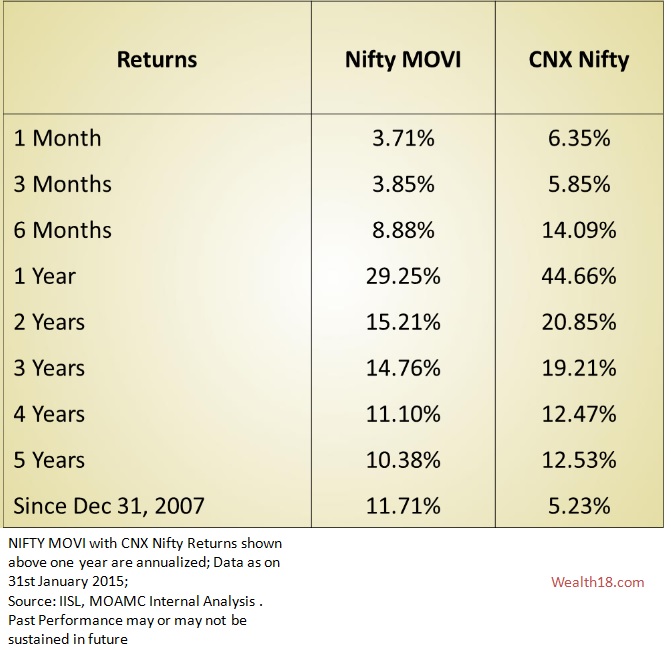 Summary & Review
While the intention of the plan is good to allocate more to Equities when market is cheap and allocate less in Equities when market is expensive. However the challenge is to accurately estimate when the market is cheap or expensive.
Also, many time if the companies are good , they may be expensive but they also give better returns.

Sometimes, market may appear expensive, but certain quality stocks may not be that expensive and other fund manager may pick that stock which may give better returns.
We need more analysis and details from the fund house around comparison of returns if investment was done as per NIFTY MOVI  vs  investment done in a diversified equity fund over a certain period.
Based on one of the Motilal Oswal presentation, the historic MOVI returns are shown as below
 

MOVI Index

UTI MNC Fund

(Diversified)

 SIP

1 year 

 29.25%

49%

28.98%

 2 year

 15.21%

45%

47.52%

 3 year

 14.76%

33%

39.58%

 4 year

 11.10%

 

 

 5 year

 10.38%

23%

29.03%

 since 31-dec-2007

 11.71%

 

 
Based on the returns data above, it seems that there is no major advantage of investing in MOVI Plan by Motilal Oswal as compared to normal equity mutual funds.