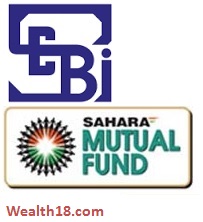 July 28. SEBI has cancelled Sahara's Mutual fund licence, saying it's not a "fit and proper person" to carry out the business of mutual fund.
Sebi on Tuesday said Sahara's fund management licence would stand cancelled after 60 days from the date of the order. It has directed Sahara AMC:
not to take any new subscription from the investors including existing investors in systematic investment plans and

not to levy any penalties on the investors for not depositing the installments.

to transfer its activities to a new sponsor and a Sebi-approved AMC at the earliest.
In the event of failure of Sahara MF to complete the process of transition within a period of 5 months from the date of this order, then Sahara MF should compulsorily redeem the units allotted to its investors and credit the respective funds to its investors, without any additional cost, within a period of 30 days thereafter and wind up the operations of the mutual fund.
Investors – What to do now
1) Your exisitng SIP will stop and no new investment will go in Sahara MF schemes. You need to start investing with another MF house.
2) For your existing investment, you will have following options
redeem now

wait till the fundsa re transferred to new mf company within next few months

wait till 6 months after which Sahara will compulsory redeem the investments.