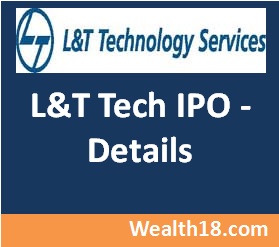 Update Day 3 –  Oversubscribed 2.48 times .  QIB 5 times , NII 1.03 times,  Retail 1.8 times

Update 13-Sep-2016 (Day 2) – Subscribed only 71% on the day 2

Update 12-Sep-2016 (Day 1) – Subscribed only 18% on the day 1 –  QIB 28%, NII 2%, Retail 19%
L&T Technology Services is coming with IPO issue on 12th Sep.
Issue Details
Issue Open: Sep 12, 2016 – Sep 15, 2016

Issue Price: Rs. 850 – Rs. 860 Per Equity Share

Issue Size: Offer for Sale of 10,400,000 Equity Shares of Rs 2 aggregating up to [.] Cr

Face Value: Rs 2 Per Equity Share

Minimum Order Quantity / Market Lot: 16 Shares
Background
L&T Technology Services Ltd is third-party ER&D (Engineering, Research and Development) service provider . L&T Tech provide services to manufacturing, technology and process engineering companies to help them develop and build products, processes and infrastructure required to deliver products and services to their end customers.
As a pure-play ER&D services company, it has developed a comprehensive range of service offerings in order to address the varied and expanding requirements of its customers. The company acts as a "one-stop shop" for its customers and covers phases from conceptualisation to implementation within the product and manufacturing engineering life cycles, including consulting, design, development, testing, maintenance, go-to-market and after-market services.
The company has been recognised by Zinnov, in the 'leadership zone', in eight industry verticals (industrial automation, construction and heavy machinery, medical devices, aerospace, automotive, rail and marine, telecom, energy and utilities), and two horizontal service offerings (embedded systems and mechanical).
The company operates in five industry segments (transportation, industrial products, telecom and hi-tech, process industry and medical devices, each of which represent a significant component of G500 ER&D spend (the 500 biggest corporate spenders in ER&D globally). 50.3% of its revenue in FY 2016 was derived from the three segments of industrial products, process industry and medical devices. These three segments represent US$205 billion of G500 ER&D spend and have low penetration by India based third-party ER&D service providers, which gives the company a competitive advantage.
The company broadened its expertise in the transportation segment (largest segment by revenue) in June 2014, particularly in embedded avionics, by purchasing a 74% equity interest in TSIPL, the Indian subsidiary of Thales, a global aerospace, transportation and defence and security company. Further, later in 2014, the company acquired certain of the assets and liabilities of Dell India and Dell U.S.A., which added three delivery centres in the U.S. to its portfolio. The company intends to pursue acquisitions of companies outside India to expand its global footprint by leveraging its low cost offshore delivery model to move a greater portion of the work offshore to India. in addition to the continued focus United States and Europe (contributed 60.4% and 19.8% of the revenue respectively, in FY 2016), the company also intends to expand its operations in Japan, as a number of its existing and prospective automotive customers are based in Japan.
Promoter's Holdings
The Promoter of the company is L&T (Larsen & Toubro). L&T currently holds 101,690,392 Equity Shares (including six equity shares held jointly with six individuals as nominees of L&T), equivalent to 100.0% of the pre-Offer issued, subscribed and paid-up Equity Share capital of the company.
Objectives of IPO issue
L&T Technology Services will not receive any proceeds from the Offer. The objects of the Offer are:
to achieve the benefits of listing the Equity Shares of the company on the Stock Exchanges and

to carry out the sale of up to 10,400,000 Equity Shares by the Selling Shareholder
IPO Issue Allocation
QIB – 50%

HNI – 15%

Retail – 35%
Anchor Investors:  To be updated one day before the IPO opens.
Financials
Summary of financial Information

Particulars
For the year/period ended (in Rs. Million)

 

31-Mar-16
31-Mar-15
31-Mar-14
31-Mar-13
Total Assets

18,227.27

17,144.82

6,368.91

0.50

Total Revenue

29,694.04

25,856.22

1,222.00

–

Profit After Tax (PAT)

4,342.36

3,151.77

62.14

(0.03)
Peer Comparison and Valuation
The firm can be compared with listed entities such as Tata Elxsi and Cyient. At the upper end of the price band at Rs 860, the PE for L&T Technology at basic FY16 EPS of Rs 43.52 stands at 19.76. On a diluted EPS basis, the PE of the firm stands at Rs 26.79 a share.
This is against a PE of 37.8 for Tata Elxsi and 14.7 for Cyient (both basic and diluted). (See table)

Should You Invest :  
The Company's revenue are growing but the company has limited operating history. Due to focus on overseas market, the company has significant forex exposures. Also note that other IPO from this group – L&T Infotech services is currently trading at 9% discount to its issue price, so please rethink before investing. I am not expecting major listing gains from this issue.
| | |
| --- | --- |
| IIFL | Limited Listed Gains |
| IndiaNivesh Research | Valuations vis-a-vis global peers look rich  |
| Religare Securities | Robust return ratios and margins  |
| SPA Securities | Diverse presence across all verticals – Subscribe for Long term |
| Angel Broking  | Potential to trade at premium to peers -Subscribe |
Please read – There is an upcoming IPO of ICICI Pru Life Insurance (opening 19th Sep 2016) – Read Details and Review
 [xyz-ihs snippet="ad1″]