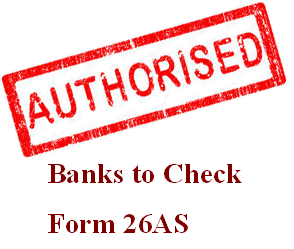 See my previous Post on – How to check Form 26AS  (Tax credit Statement)
List of banks registered with TRACES for providing view of Tax Credit Statement (Form 26AS) are as below
      1. Allahabad Bank
      2. Andhra Bank
      3. Axis Bank Limited
      4. Bank of Baroda
      5. Bank of India
      6. Bank of Maharashtra
      7. Canara Bank
      8. Central Bank of India
      9. Citibank N.A.
   
   10. City Union Bank Limited
   11. Corporation Bank
   12. Dena Bank
    13. HDFC Bank Limited
    14. ICICI Bank Limited
    15. IDBI Bank Limited
16. Indian Overseas Bank
17. Indian Bank
18. Karnataka Bank Limited
19. Kotak Mahindra Bank Limited
20. Oriental Bank of Commerce
21. Punjab National Bank
  22. State Bank of Bikaner & Jaipur
  23. State Bank of Hyderabad
24. State Bank of India
25. State Bank of Mysore
26. State Bank of Patiala
27. State Bank of Travancore
28. Syndicate Bank
  29. The Federal Bank Limited
30. The Karur Vysya Bank Limited
      31. The Saraswat Co-operative Bank Limited
      32. UCO Bank
      33. Union Bank of India
      34. United Bank of India
      35. Vijaya Bank