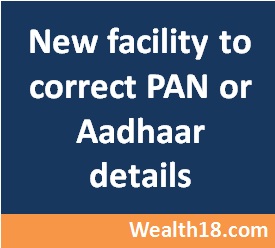 The government, under the Finance Act 2017, has made it mandatory for taxpayers to quote Aadhaar or enrollment ID of Aadhaar application form for filing of income tax returns (ITR).Also, Aadhaar has been made mandatory for applying for permanent account number with effect from July 1, 2017.
To link PAN with Aadhar, IT dept has launched online facility, but the details in PAN and Aadhaar needs to be same. Read my post on – How to link PAN with Aadhaar online with/without login.
If for some reasons, your details in PAN and Aadhaar are not matching, IT dept has launched the facility to correct these details. 
Taxpayers can go to www.incometaxindiaefiling.gov.in and click on the link on the left pane-> Links to correct name,
How useful was this article?
Click on a star to rate it!
Average rating / 5. Vote count:
No votes so far! Be the first to rate this post.