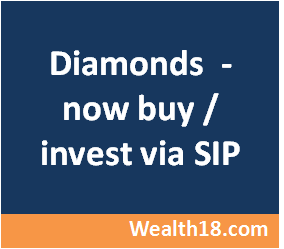 Now , you can invest in Diamonds  by investing small amount through SIP option. Like mutual funds and gold funds, you can now buy diamonds in SIP format through ICEX. Indian Commodity Exchange (ICEX) is the world's first diamond trading exchange.
Key Features:
The ICEX is starting trading in diamond contracts of three different sizes -30 cents, 50 cents and 100 cents (1 carat). The diamond is of HVS2 quality, which is one of the largest-traded quality of diamonds. HVS2 quality, which is one of the largest-traded quality of diamonds. Also, the diamond that investors will receive will be DeBeers certified.

You can invest in SIP mode for certain period and take delivery of diamond at the end of term.
How to Invest in diamonds at ICEX
You need to open an account with broker on the ICEX

Complete the KYC process (ID & address proof) and deposit money

Select the date of month on which diamond will be bought in the electronic format.
Minimum amount of Investment
The SIP amount will vary according to diamond price. As per the current price of 30 cents diamond (Rs 27000), each cent will cost Rs 900 and you need to invest till 30 months to accumulate 30 cents.

It means, you need to invest and accumulate at least 30 cents to take the delivery.

There is no penalty if you do not pay SIP amount in particular month.  The balance of diamond unit will remain the same.

You can also sell the diamond units (available in DMAT) at any time.
Future Prospects and Returns
At ICEX, the trading is done at the wholesale prices that is almost 30% lower  than the retail prices.

It is advisable that retail investors should look this as an opportunity to buy diamonds for consumption rather than investment. For investment, it should be no more than 1-2% of total portfolio.

In the past three years, returns from diamonds have been negative. On a five-year basis, the prices are flat :