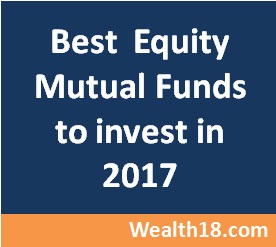 If you are looking at this post, then you must be interested in knowing more about best performing Equity mutual funds.
Based on your risk profile, you should allocate a portion of your investment amount into Equities. Mutual funds is the best route for retail investors to invest in Equities. 
For accumulating sizable corpus in the long run, you should invest in GROWTH option of the mutual funds. It is also better to invest via SIP option (systematic investment plan i.e. periodic investment).
Based on the historic performance, please see below the list of Best performing Equity Mutual Funds. You can consider these funds for your investment.  However, please note that the past performance is not guaranteed for future performance, but it is good indicator of how the fund has performed in the past.
Top performing Large Cap Equity Funds
 

Annualised Return

 

 

AUM

1 Yr

2 Yr

3 Yr

5 Yr

Large Cap Funds

 

 

 

 

 

 

 

 

 

 

 

ICICI Pru Top 100 Fund

1295

10.4

4.9

14.9

17.5

Kotak Select Focus Fund 

4726

9.8

6.5

21.2

20.3

Birla SL Frontline Equity (G)

10717

8

4.5

16.3

18.5

SBI Blue Chip Fund (G) 

6412

5.4

6.7

18.8

20

Quantam Long term Equity fund

 

12.33

 

17.34

18.25

HDFC Top 200 Fund

 

8.52

 

14.3

15.51

 

 

 

 

 

 

As on 31-Dec-2016

 

Compiled by Wealth18.com
Top performing Small & Mid Cap Equity Funds
Annualised Return

 

 

 

AUM

1 Yr

2 Yr

3 Yr

5 Yr

Small & Mid Cap

 

 

 

 

 

 

 

 

 

 

 

DSP-BR Micro Cap Fund – RP (G

3106

13.4

17.2

40.1

31.9

Mirae Emerging Bluechip Fund (G)

2010

12.6

13.5

33.4

30.1

DSP-BR Small & Mid Cap -RP (G

2129

11.7

9.7

27.1

24.6

SBI Small & Midcap Fund (G)

633

2.1

11.7

37.5

 

Reliance Small Cap Fund (G)

2117

6.1

10.9

34.1

30.6

Franklin (I) Smaller Cos (G)

2996

10.8

10.6

31.9

31.5

Can Robeco Emerg-Equities (G)

1080

2.6

8.3

31.8

28.4

SBI Magnum Midcap Fund (G)

2225

5.5

10.7

27.6

28.3

UTI Mid Cap (G)

3376

3.9

5.4

28.3

28.6

HDFC MidCap Opportunities (G)
11208
11.6
9
27.9
26
Edelweiss Emerging Leaders Fund
57
10.5
10.9
24.7
20

 

 

 

 

 

 

As on 31-Dec-2016

 

Complied by Wealth18.com
Top performing Diversified Equity Funds
Annualised Return

 

 

 

AUM

1 Yr

2 Yr

3 Yr

5 Yr

Diversified

 (in Rs crores)

 

 

 

 

 

 

 

 

 

 

Principal Emerging Bluechip(G)

492

25.3

20

41.3

25.9

ICICI Pru Exp&Other Services-RP (G) 

700

4.3

19

31.3

21.7

ICICI Pru Value Discovery Fund (G)

10761

12.8

10.7

34.1

23.5

L&T India Value Fund (G) 

1114

16.4

16.3

34.8

23.3

Birla SL India GenNext (G)

342

20.9

19.3

27.7

21.4

Motilal Focused Multicap 35 -RP

2089

16.1

22.2

 

 

UTI MNC Fund (G

1768

4.7

15.6

30

21.1

 

 

 

 

 

 

As on 15-Sep-2016

 

Complied by Wealth18.com
Please see my other posts on
If you have any queries related to this article or any other personal finance query ( Investment, Taxation etc), please comment below
http://wealth18.com/

13,274 views