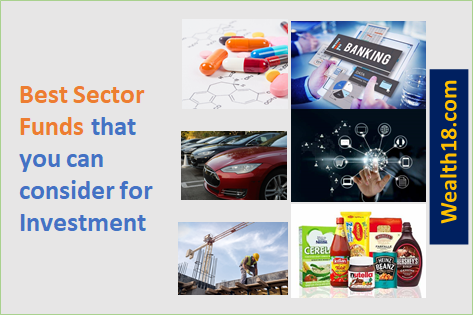 When you have invested in other Equity funds, like Large, Midcap, Small cap, Multipcap Equity funds etc, you can consider allocating some funds to any sector specific or Thematic funds.
As the name suggests, these funds invests in share of specific industry (e.g. pharma) or specific theme (i.e. infrastructure) etc.
These funds have higher risk as compared to diversified Equity funds, so you should allocate only a portion of your funds, for e.g. 10-15% depending on your risk profile.
Some of the best performing Sector / Thematic Funds are as follows for investment in 2020
Pharma & HealthCare funds
---
Pharma & Healthcare funds have not given good returns in the last 5 years. However it seems that 2020 onwards it will be different story due to increased focus on healthcare sector.


Banking & Financial Services Sector Funds
---
Due to COVDI-19 situation, banking stocks have taken a big hit. As a result the returns in 2020 YTD has turn negative, thereby impacting the long term average returns.


Technology / Digital Funds
---
The returns from technology funds are quite consistent, so investors can consider these thematic funds.


FMCG and Consumption Funds
---
FMCG and Consumption funds have mostly given positive returns in last 7 years. Though 2020 YTD is an exception, the situation should improve post COVID.


Infrastructure Funds
---


Other Sector Funds
---


Please see my other posts on
---
Please comment below if you have any queries related to sector funds. Have you invested in such funds?