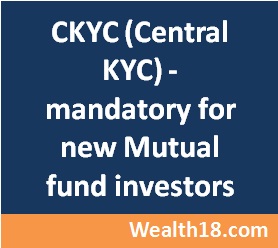 From Feb 1, 2017, new investors in mutual funds will have to do CYKC (Central Know Your Customer) before investing. The CKYC will replace the existing KYC.  
What is CKYC?
Central KYC Registry, or CKYCR, is the new central KYC process that will replace the multiple KYC process exists for various financial transactions, such as opening bank accounts, buying life insurance, and investing in mutual funds.
The government has authorised the Central Registry of Securitisation and Asset Reconstruction and Security Interest of India (CERSAI) to manage the CKYC Registry process.
What is the benefit by CKYC?
CKYC is helpful to move investors to a single KYC platform.  Before this, investors were required to complete KYC formalities with multiple agencies for various financial products.
All the records will now be stored digitally, which will helps intuitions remove duplicate data. It also helps institutions find out if the client is KYC compliant.
How does this impact the first time Mutual fund investor?
A mutual fund investor has to complete formalities for new CKYC – submitting the form with PAN card, ID & address proof.  Once the new form is processed by the registrar, a 14-digit KYC Identification Number (KIN) will be issued by CKYC, which can be used to invest in all financial products including mutual funds.
[xyz-ihs snippet="ad-full"]
How can CKYC be done?
The investor has to submit:
CKYC form

a self-attested copy of his PAN card, and

identity and address proofs, such as passport and Aadhaar card.
An in-person verification of the investor has to be done. CKYC can be done through a mutual fund distributor, or the investor will have to visit the office of a mutual fund or a registrar.
In case of NRI applicants, a person is authorised to attest the documents, and he may also conduct the in-person verification and confirm this in the KYC form.
How does this impact existing mutual fund investors?
As of now, existing investors in mutual funds who are KYC compliant can continue investing in mutual funds. No update is required from their side.