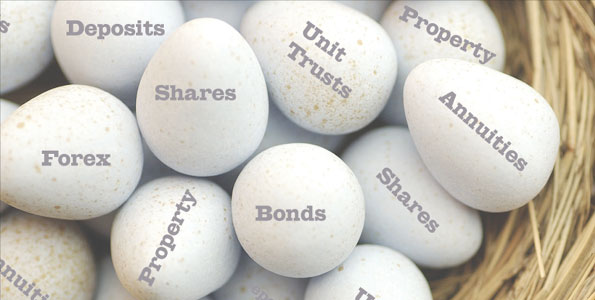 There is a famous saying in financial world that you will become rich by "Investing" not only "Saving".
Well, Isn't Investing & Saving is the same thing?
Actually No, when you save money, you put it in extremely safe, liquid option like Bank Account, Fixed deposit etc. Saving is mainly to keep pace with Inflation or short term goals or for emergency.
When you want to invest, you look around for various available options which can grow your wealth. Based on the goal horizon & risk appetite, you can invest your money in options like Shares, Mutual Funds, Property etc
A. Fixed Income
Savings Bank Account

Sweep-in FD Account

Fixed Deposits

Recurring Deposit

Public Provident Fund (PPF)

PO National Savings Certificate – NSC

RBI Tax free Bonds

Corporate Non-Convertible debentures (NCD)

Tax free Infrastructure Bonds

National Pension Scheme – NPS

Mutual Funds – Balanced, Debt, Liquid, Gilt etc
B. Equity
Shares

Equity Mutual Funds – Large Cap, Mid Cap, Small Cap, Diversified, Sector, Thematic, International, Arbitrage, Balanced etc

RGESS – Rajiv Gandhi Equity Savings Scheme

National Pension Scheme – NPS

Derivatives – Futures, Options (Index / Stocks)
C. Commodities
Gold – Physical, Jewellery, Gold ETF, Gold Savings Fund, e-Gold

Silver – Physical , e-Silver

Commodity Futures – Bullion, Metals, Oil, Pulses, Energy, Spices etc
D. Real Estate
Residential (Pre-launch, Launch., Resale etc)

Commercial – Office, Showroom, Retail etc
E. Insurance Products
Money Back Life Insurance Policies

ULIP – Unit Linked Insurance Plans

Single Premium Policies
Simple Comparison of various available options: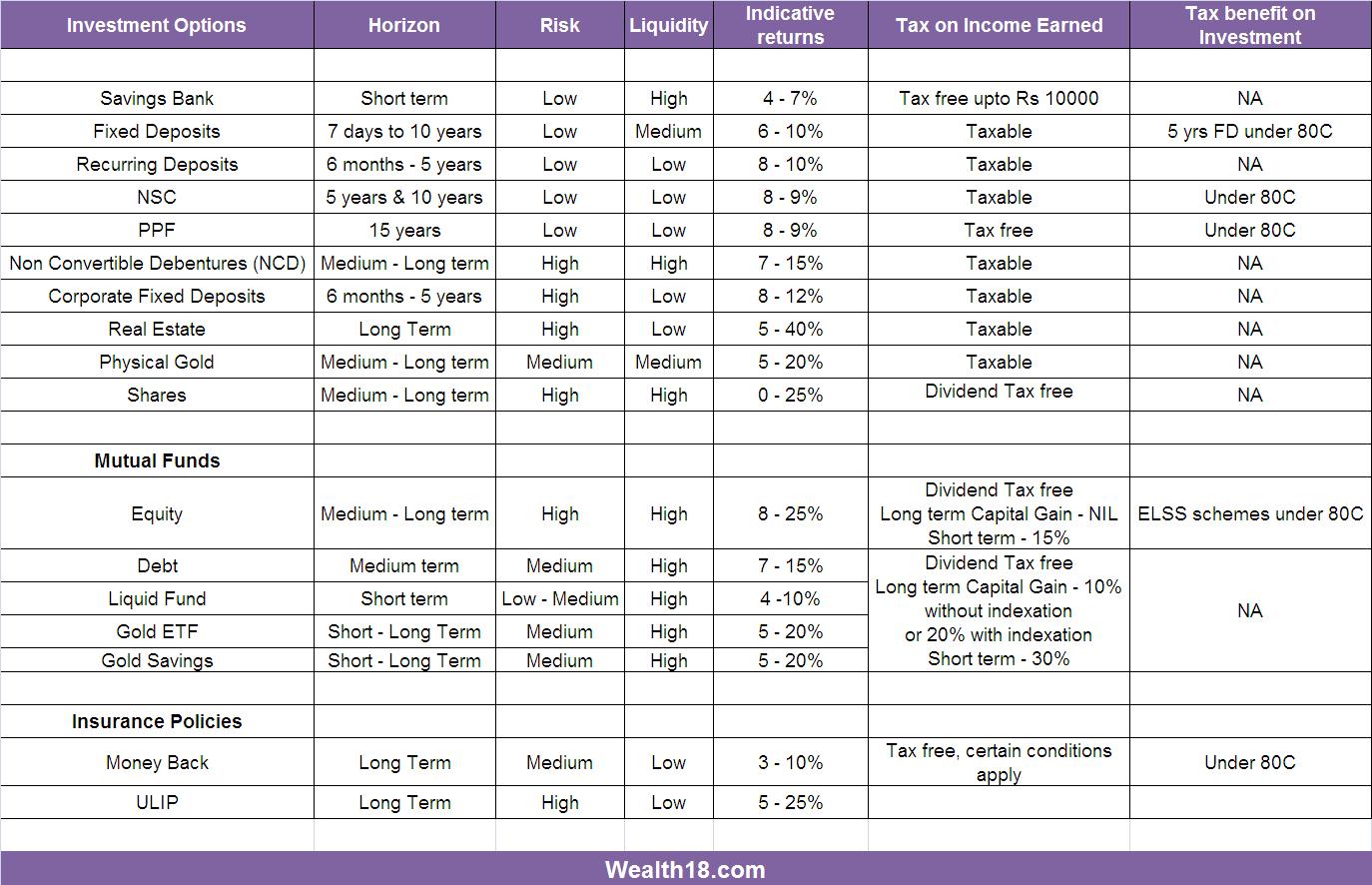 Author's Tip
Keep 3-5 months of your monthly expenses in Savings Account. Alternatively you can put this money in Sweep-in FD account  (Read my Article on –

How to Earn 9% on your Savings Balance

)
Open a PPF Account (Read my Article on – Why should you invest in PPF)
Start a SIP in diversified Equity mutual fund from as little as Rs 1000 per month  (Read my article on –

Basics of Mutual Funds

)

Based on your long term & shot term goals, allocate your money in various investment options – Equity, debt, commodities, real estate etc.