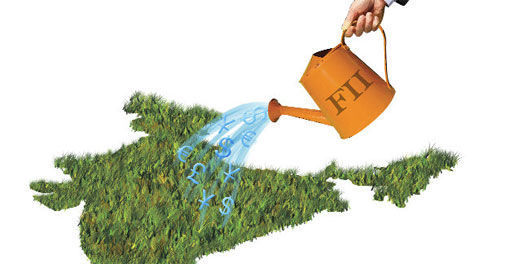 FIIs were the  key drivers of the Indian equity market in recent years,.
They pumped in around $20 billion net in Indian equities in 2013.
In Dec 2013 quarter, they pumped around $6.6 billion in Indian Equities as they are turning bullish.
As per experts, though currently the economy is under pressure, there is an appetite for companies with good governance and there is faith in India's long-term growth story.
While there are some fears that the US Fed plan to taper its asset purchase programme may curb liquidity flows into emerging markets such as India, experts are now of the opinion that a staggered withdrawal of stimulus may not hurt as much.
 FII holdings in Indian stocks has increased recently & expected to increase further in 2014
Indian Stocks where FII holds  more than 1/3rd of the company (33% FII holdings or more)
| | | | |
| --- | --- | --- | --- |
| Stocks | % Holding | Rs (in crores) | No of Holders |
| HDFC | 74.25 | 92432 | 1053 |
| Tata Motors (D) | 65.31 | 6122 | 177 |
| Winsome Diamond | 57.9 | 39 | 24 |
| Jain Irrigation | 52.44 | 1352 | 160 |
| Shriram Trans | 49.72 | 7284 | 380 |
| Strides Arcolab | 49.4 | 1044 | 81 |
| Jubilant Food | 47.38 | 3675 | 124 |
| Zee Entertain | 47.25 | 12218 | 501 |
| UPL | 44.93 | 3580 | 285 |
| South Ind Bk | 43.96 | 1221 | 68 |
| Axis Bank | 43.18 | 23849 | 570 |
| Federal Bank | 42.27 | 2656 | 171 |
| India Infoline | 42.17 | 778 | 67 |
| Apollo Hospital | 42.13 | 5547 | 338 |
| KPIT Tech | 41.96 | 1412 | 84 |
| IndusInd Bank | 41.13 | 8225 | 270 |
| United Spirits | 40.9 | 14062 | 485 |
| M&M Financial | 40.8 | 6428 | 297 |
| Infosys | 40.65 | 85482 | 897 |
| Monnet Ispat | 40.52 | 406 | 56 |
| Tech Mahindra | 40.42 | 17275 | 577 |
| Yes Bank | 39.56 | 4346 | 389 |
| Intl Conveyor | 38.82 | 32 | 5 |
| ICICI Bank | 38.39 | 45415 | 1008 |
| SKS Microfin | 38.36 | 628 | 53 |
| Indiabulls Hsg | 38.32 | 2458 | 147 |
| Redington | 38.04 | 939 | 86 |
| Commex Tech | 36.95 | 113 | 16 |
| Mindtree | 36.78 | 2528 | 133 |
| Infotech Enter | 36.19 | 1415 | 42 |
| LIC Housing Fin | 35.71 | 3630 | 291 |
| Mcleod | 35.71 | 1098 | 133 |
| India Cements | 35.1 | 595 | 118 |
| Dhanlaxmi Bank | 35 | 132 | 19 |
| HDFC Bank | 34.92 | 55591 | 800 |
| NCC | 34.77 | 219 | 50 |
| Gujarat Pipavav | 33.82 | 1153 | 75 |
| Dr Reddys Labs | 33.35 | 15484 | 514 |
See Next Page  –  FII favourite stocks where they have invested more than Rs 10000 crore)