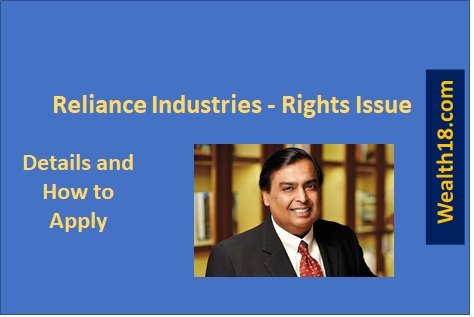 Reliance Industries (RIL) has announced its Rights Issue to raise Rs 53125 crores. The rights issue is open for subscription on May 20 and closes on June 03,2020.
Record Date to be eligible: 14th May 2020
Ratio : 1:15 – Eligible shareholders are allowed to subscribe to 1 equity share for every 15 shares held
Right Issue discounted price: Rs 1257
The shareholders is not required to pay full amount now, but it will be required to pay in installments:
Installment 1 : Rs 314.25 per rights equity share. (25%)
Balance: Rs 942.75 will be payable in two installments (Expected 25% in May 2021 and 50% in Dec 2021)
Rights Entitlement: The rights entitlement (RIL-RE) will also be credited to the Demat accounts of shareholders by RTAs. The RE will be in the form of temporary Demat securities. You are able to buy or sell these. If you don't want to apply for the rights, you can choose to sell these REs once they are credited to your account.
Subscribe to Rights Issue: There are couple of options as to how you can apply for the right issue:
1) via Karvy Fintech RTA
Visit RTA website: https://rights.kfintech.com/
Click on "Apply for the Rights Issue"
Confirm the Declaration and click Proceed
Enter Details (Enter Full DP ID and PAN) and enter Submit
Once you Submit, it will show how many shares you are entitled to apply
Submit and then Pay using your NetBanking
Through NetBanking: You can also apply to the Rights Issue through your netbanking as major banks (HDFC, ICICI, SBI etc) have given this option through their net banking.
Login to NetBanking
There will be an option – "DMAT & ASBA"
Select Reliance Rights Option
Enter PAN, DMAT and other details
Apply
The amount will be blocked from your bank account.
Summary:
The current market price for RIL is Rs 1500, so the rights issue at Rs 1257 is at discount. Also, you just need to pay 25% currently and the rest is expected to be paid next year. Base don future prospects of RIL as well as Jio Platforms, it may be worth subscribing to the rights issue. The rights issue is closing on 3rd June 2020.