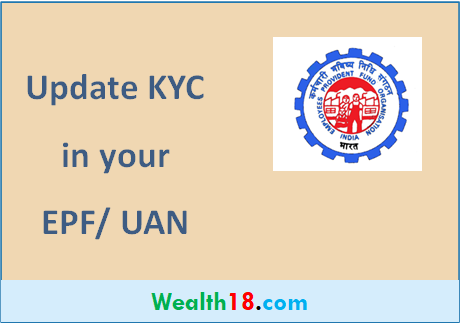 Sicne EPFO has launched Universal Account Number (UAN), a number of PF related processes (transfer, withdrawal, balance check etc) has been made online. Each PF subscriber should have a UAN alloted.
To fully utilise the services online, it is important that you upload your KYC documents on UAN portal. The process to get the KYC updated is very simple as below.
How to update or upload KYC details in EPF UAN
---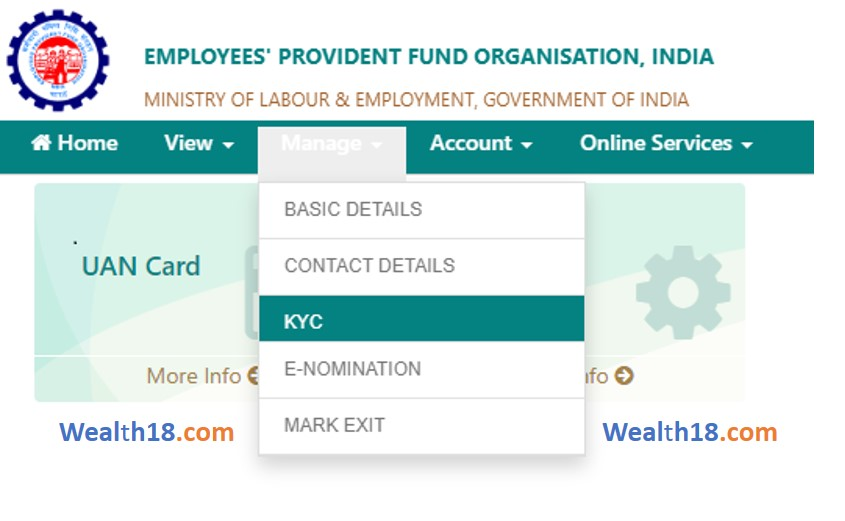 Login to Member e-Seva Portal   using your UAN and password
Under "MANAGE" –> Click on

KYC

You can enter the KYC details – bank, PAN, Aadhaar, passport, Driving License, Election Card, Ration Card and National Population Register

Once you save the changes made by clicking the save button, your data will be saved under the "Pending KYC" section

Your details are then verified by the EPFO from the data of the concerned department.

Once the details matches, verified is marked in front of the document.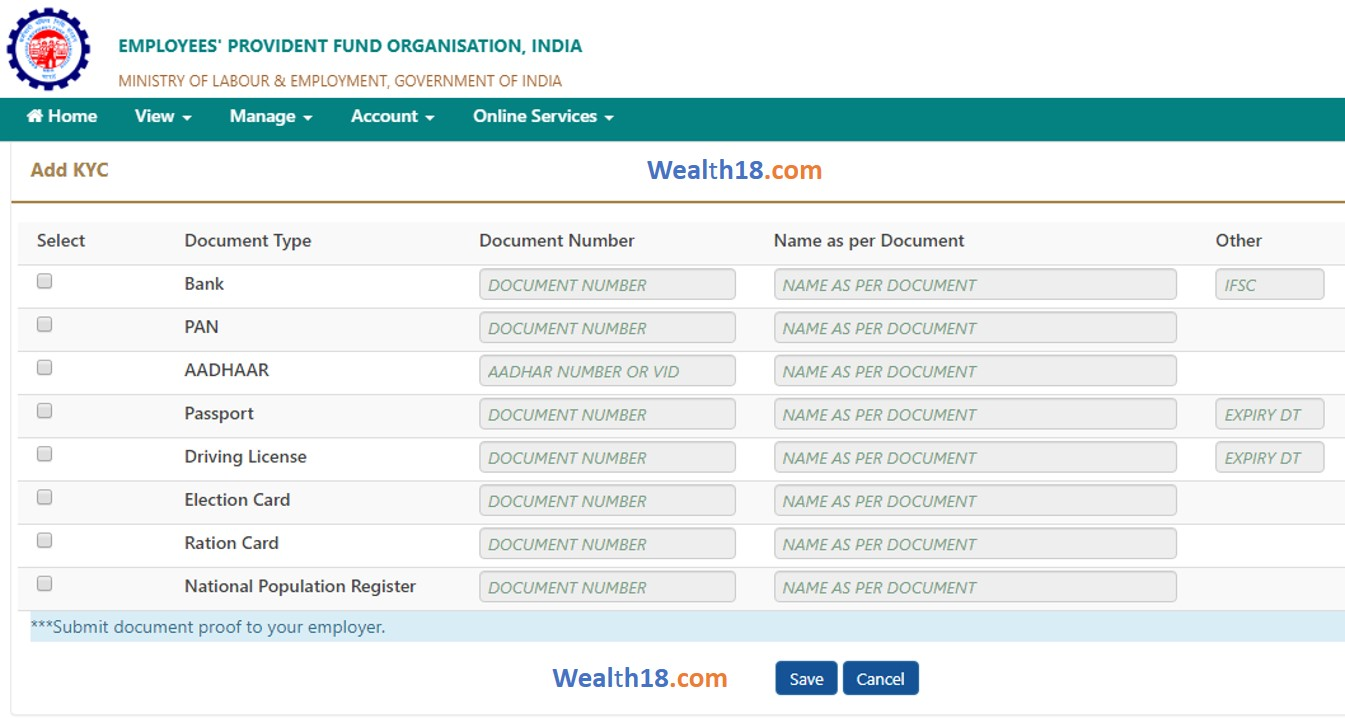 Check PF Balance:  You can check your PF balance in different ways – check PF passbook, Umang App, Giving a miss call, Sending an SMS. See all the details in a dedicated article on this topic.
Key Points to note
Once your employer has verified and found the details matching and legitimate, he/she will digitally attest the document.

Once your document has been approved, authorities of the EPFO will then verify your approved document to see if there is any mismatch, discrepancies and so on.
Note that it is not mandatory to update KYC details online. However, updating KYC will keep your data up to date in teh EPFO database and will help in doing online transactions like PF transfer or withdrawal.
Key questions
---
How can I update by EPF KYC?
You can update the KYC on the UAN portal online. You need to have the UAN poirtal access. Enter the details, upload documents and submit. Detailed procedure is given in the article above.
How is PF KYC approved?
Once you submit the KYC details online on the UAN portal, the details are first approved by your employer. On approval by employer, it goes to PF office for their approval. It can take 3-4 weeks to get the approval.
How can I get KYC approved without employer?
In extreme circumstances when employer is not ready or not available to approve KYC details, you can write to the nearest EPFO office with all the details. Attach all the KYC documents and submit to the nearest PF office. They can then proceed with the approval. It may take little more time that usual to get it approved.