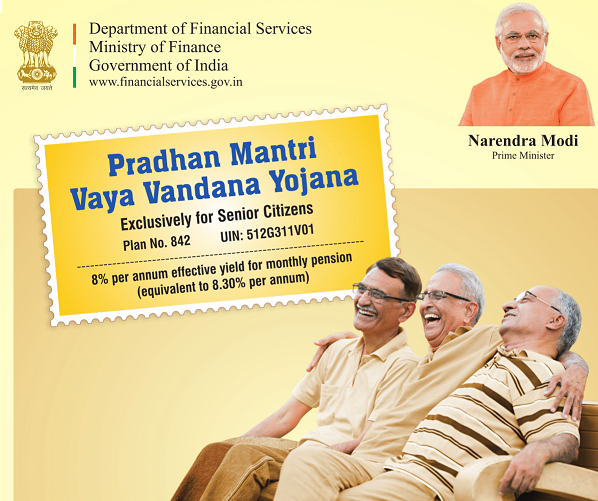 LIC or Life Insurance Corporation operates the government's 8% pension scheme for senior citizens, which is called Pradhan Mantri Vaya Vandana Yojana (PMVVY).  It is a pension scheme meant for senior citizens, offers a guaranteed interest rate of 8%.
Minimum Age of Entry: 60 years

Maximum Age: No Limit
Key Features of this scheme  (LIC Plan No, 842   UIN – 512G311V01)
Assured return of 8% per annum

payable monthly (equivalent to 8.30% per annum) for 10 years

Duration – 10 years

Can be purchased online or offline

Maximum Investment amount is Rs 15 lacs (increased from Rs 7.5 lacs in Budget 2018).

LIC started offering the PMVVY scheme from May 2017. The PMVVY scheme was supposed to remain open for subscription for one year. Now, with the proposed extension, it scheme will remain open till March 2020.

No Medical examination is required for this scheme.
On Maturity:  At the end of the policy term of 10 years, the pensioner gets back the purchase price (amount invested to earn pension) along with final pension instalment.
On Death:  On death of the pensioner during the policy term of 10 years, the purchase price will be paid to the beneficiary.
Premature / Surrender : The PMVVY scheme also allows for premature exit for treatment of any critical/terminal illness of self or spouse. On such premature exit, 98% of the purchase price will be refunded.
Loan: Loan up to 75 % of purchase price (amount invested to earn pension) is allowed after three policy years to meet the liquidity needs.
Tax Benefit:
The deposits made in the scheme are

exempt from income tax under section 80C

of Income Tax Act, 1961.
However, the

interest earned on the deposit is not exempt from income tax

. Provisions of Tax Deduction at Source (TDS) are applicable to the Scheme.  Note that the income tax slab rate is ZERO for Senior citizen (60-80 years) and above 80 years on Income upto Rs 3 lacs and Rs 5 lacs respectively.  They can submit Form 15H so that no TDS is deducted.
Example of Amount to be invested to get certain amount of Pension

Note that the max limit is now increased to Rs 15 lacs from Rs 7.5 lacs.
Should you invest in PMVVY  scheme?
As there are assured returns of 8% for 10 years (8.3% if annual payment), it is quite good as compared to current FD rates.  This is similar to Tax free FD, but has better interest rate and longer duration.
If you want stable income, then you can consider investing in this pension scheme.