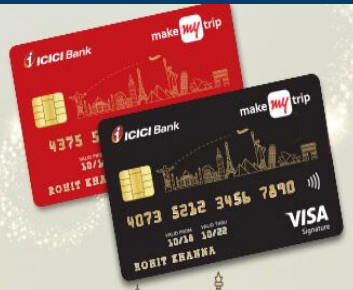 Makemytrip ICICI Bank Signature Credit Card – gives extra rewards on flight and hotels bookings at Makemytrip.
ICICI Bank Makemytrip Signature Credit Card Benefits
Joining Benefit

Get Rs 1500 My Cash (100% usable MakeMyTrip cash in MyWallet – valid for one year)

Complimentary MMTDOUBLEBACK (worth rs 1499) and MMTBLACK enrolment

Lemon tree hotel vouchers worth Rs 2500

Ola Get every sixth ride complimentary with Ola  (worth Rs 150)
Airtel International Roaming: Complimentary Airtel international roaming pack (for postpaid customers booking any international flight / hotel)
Complimentary movie tickets every month under the Buy One Get One free offer through www.bookmyshow.com. Buy 1 ticket and get the other ticket free any day of the week (Max benefit Rs 300 per ticket)
1 complimentary international lounge
1 spa session at selected domestic airport
2 domestic airport lounge access per quarter as per VISA Offer
1 Complimentary domestic railway lounge access

Fuel Surcharge Waiver – 1% fuel surcharge waived off on fuel transactions at HPCL pumps. (The offer is valid on a maximum spend of ₹ 4000 per transaction at all HPCL pumps)
Minimum 15% savings on dining bills at over 2,500+ restaurants across India through Culinary Treats Programme
VISA Privileges: Live the good life wherever you are, in India or abroad, with amazing offers from VISA. Wine, dine and unwind with great offers from luxury hotels, restaurants, lifestyle stores, spas and more.
MasterCard Privileges:  Mastercard Moments is an exclusive programme specially created for Mastercard cardholders and offer wide range of special offers.

MMTDOUBLEBLACK Membership benefits

Free Cancellation on Domestic flights (Get 100% refund on first 2 domestic* cancellations for MMTDOUBLEBLACK member and a co-traveler (including 

non-refundable flights)

Feee Cancellation on Domestic Hotels: Get 100% refund on the first 2 domestic* hotel cancellations (1 room) only for the MMTDOUBLEBLACK 

member (including non-refundable hotels)

MMTBLACK Membership benefits

MMTBLACK is a spend-linked rewards program in which the member earns My Cash on crossing various spend levels on bookings made at MakeMyTrip, starting at Rs. 20,000. Member can earn up to Rs. 25,000 My Cash which can be used 100% (with no restrictions) to make bookings or to claim exciting vouchers. non-refundable flights)

Milestone 1 – Rs 20000 spend – Rs 500 My Cash reward (2.5% worth)

Milestone 2 – Rs 50000 spend – additional Rs 2000 My Cash reward 

Milestone 3 – Rs 200000 spend – additional Rs 7500 My Cash reward

Milestone 4 – Rs 500000 spend – additional  Rs 15000 My Cash reward 

Membership does not expire for an MMTBLACK member's lifetime, while the spend counter associated with the member's account resets after 365 days, from travel end date of your first booking under MMTBLACK program.
Rewards Collection
Domestic Spend outside MMT :  1.25 per Rs 200 spend (0.6% worth)

International Spend outside MMT :  1.50 per Rs 200 spend (0.75% worth)

Flight Spend on MMT :  2 per Rs 200 spend (1% worth)

Hotel / Holiday Spend on MMT :  4 per Rs 200 spend (2% worth)

Spend Rs 2.5 Lakh using the MakeMyTrip ICICI Bank Signature Credit Card and earn 1,100 My Cash each anniversary year (0.5% worth)

Spend Rs 5 Lakh using the MakeMyTrip ICICI Bank Signature Credit Card and earn 4000 My Cash each anniversary year (0.8% worth)
Rewards Redemption
You get the rewards in terms of Makemytrip MY Cash that can be redeemed at their site. 

Assuming that you spend Rs 50000 on flight tickets in a year, you will get 500+500+2000 = 3000 MYCASH =  6% benefit
ICICI Bank MakemyTrip Signature Credit Card – Fees
Joining Fees: Rs 2500 + GST

Annual Fees : Rs NIL 
How to Apply – You can apply online   See details
Documents needed: 
Proof of ID and Address

Last 2 salary slips
Summary
This card is beneficial if you book flights and hotels regularly. If you do, then you can get benefit of around 6% on booking through Makemytrip.  The initial joining fees is  covered though vouchers given at the time of joining and there is no annual fees.  You can keep this card for your travel bookings.