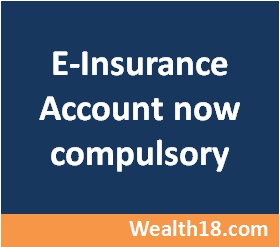 From 1st October, every insurance has to issue all kind of insurance policies in the electronic format (online/ DMAT format). If you are planning to buy an insurance policy,  then it is mandatory for you to have an e-insurance account.
You need to open an e-Insurance Account  (eIA) for most of the insurance policies (life / motor / heath etc) if the premium is Rs 10000 or Sum Assured is Rs 5 / 10 lakhs as below: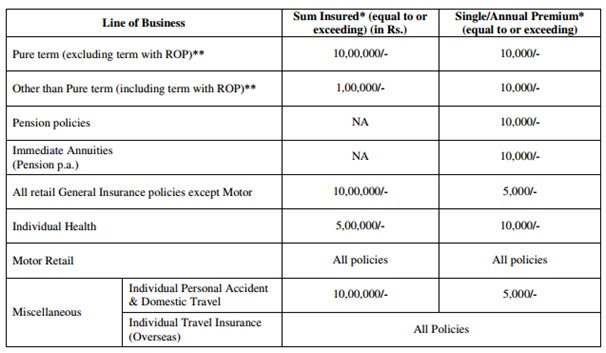 What is e-Insurance Account ( eIA)
e-Insurance Account is actually an electronic account for Insurance policies. Like Shares are kept in DMAT form, now Insurance policies are also issued and kept in electronic form.
Benefits of opening -Insurance Account ( eIA)
100% Free –  The eIA is 100% free – no charges to open it, no ongoing or maintrenance or transaction charges.
Central repository of all policies – It will be one place where you can access and manage all type of insurance policies for all companies.
Central point to update your contact details – If you want to update your contact details – mobile, address, email, you can just update in yoru eIA and there is no need to update for each insurance policy.
No new KYC for new policies – When you are buying new policy, you are not required to submit the KYC documents again. You just need to quote your eIA details.
Online Payment – You can make online payment for premiums
How to open e-Insurance Account (eIA) – Step by step guide
1) Select any insurance repository from the 5 registered / licensed insurance repositories. You can select any one, doesnot make much difference.
2) Download the account opening form from the links above. Or you can fill in the form online at CAMS Repository
https://www.camsrepository.com/eia_application.aspx
3) Fill in the form and attach following self attested documents  –
Date of Birth Proof

PAN or Aadhar Card

Address Proof

Cancelled Cheque

Passport size photo
 4) Submit the documents to the insurance repository or your insurance company.
5)  Once account opened, repository will communicate the particulars like eIA number, Login ID, password and usage instructions through email to account holder.
 6) You can now log in to the repository website and access your policy details.
 [xyz-ihs snippet="ad1″]
How to convert existing physical insurance policy to Electronic form
Once you open the e-insurance account (eIA), you can convert your existing policies into electronic form. You can apply the conversion online or offline form – – you just need to enter your policy number and insurance company name  and the policy will be converted to ePolicy.
Do you have insurance policies that are due for renewal or are you planning to buy a new policy? Have you opened the e-Insurance account recently? Please share your views.