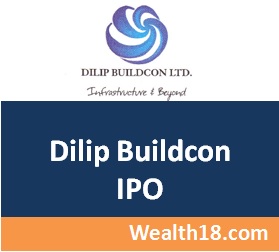 Day 1 Subscription – On the first day of the issue, it is subscribed only 7%
Dilip Buildcon has announced its IPO opening on 1st Aug.   The IPO comprises fresh issue of shares aggregating up to Rs. 430 crore and offer for sale of 11.36 lakh shares held by its promoters Dilip Suryavanshi and Devendra Jain, and private equity fund BanyanTree Growth Capital. 
Grey Market Premium
IPO Grey Market Premium (GMP) helps in deciding the premium of the IPO Shares on listing day. It is just an estimate.
With the Price Band of Rs. 214 – Rs. 219 fo r Dilip Buildcon IPO current Grey Market Premium is between Rs 30 – Rs 40 per equity share which converts to approx 18% Premium on the price of upper band. Note: This is just an estimate.
Issue Details
IPO Open :  1st – 3rd Aug 2016

Issue Price band:  Rs 214 – 219 per share

Issue Size:  Rs 430 crore

Market lot : 65

Lead Managers : Axis Capital Ltd, IIFL Holdings Ltd, JM Financial Institutional Securities and PNB Investment Services Ltd 
The company has first filed for IPO in April 2015. This is Dilip Buildcon's second attempt at an IPO. Last year, the company had proposed to raise about Rs.650 crore through a public issue of fresh equity shares, but had backed off citing the cautious sentiment of foreign institutional investors (FIIs) towards the sector.
Background:
Bhopal-based Dilip Buildcon, which in 1989 started off with a real estate construction business, and later forayed into water treatment and sewage treatments, builds projects across roads, dams, canals and residential buildings on EPC (engineering, procurement, and construction) basis.
Dilip Buildcon is leading road-EPC contrators in India. In last 5 years, they have completed the construction of 51 road projects in the states of Madhya Pradesh, Gujarat, Himachal Pradesh, Rajasthan and Maharashtra in India, with an aggregate length of approximately 5,858.49 lane kms. In addition, they have ongoing projects in 9 other states – Tamil Nadu, Punjab, Chhatisgarh, Jharkhand, Haryana, Telangana, Andhra Pradesh, Karnataka and Uttar Pradesh.
The core core business is undertaking construction projects across India in the roads and irrigation sectors. The company specializes in constructing state and national highways, city roads, culverts and bridges. The company business comprises:
construction business, under which the company undertake roads, irrigation and urban development projects on an EPC basis; and

infrastructure development business, under which they undertake building, operation and development of road projects on a BOT basis with a focus on annuity projects
Industry growth:
In Budget 2016, the government announced an outlay of Rs 97,000 crore for the roads sector – proposed an allocation of Rs 55,000 crore in the Budget for roads and highways. This will be further topped up by an additional Rs 15,000 crore to be raised by NHAI through bonds. Thus the total investment in the roads sector, including Pradhan Mantri Gram Sadak Yojana (PMGSY) allocation, would be Rs 97,000 crore during 2016-17.
Objective of the issue:
The company plans to sell new shares worth Rs.430 crore and some of the shares currently held by promoters Dilip Suryavanshi and Devendra Jain and private equity fund BanyanTree Growth Capital. BanyanTree, which currently holds about 9.75% in the company, will sell about 6% stake or 7.95 million equity shares through the IPO. The Net Proceeds from the Fresh Issue will be utilised towards the following objects:
Prepayment or scheduled repayment of a portion of term loans availed by Company;  ( apporx Rs 200 crores)

To meet working capital requirements; (approx RS 200 crores) and

General corporate purposes.
The company proposes to use net proceeds of the fresh issue for prepayment or repayment of a portion of term loans, and for working capital. 
IPO Issue Allocation
QIB – 50% allocation

Non-Institutional – 15% 

Retail Individual – 35%
Financials: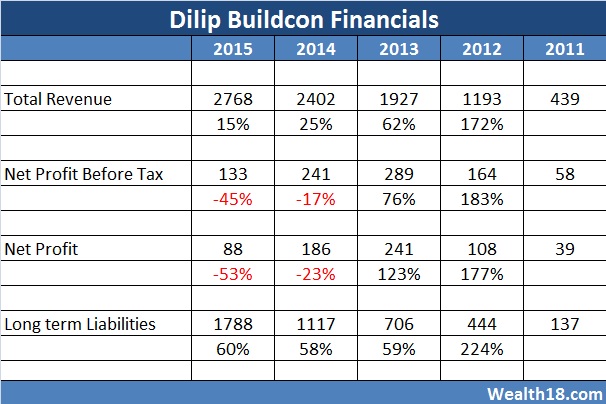 Risk Factors
Government contracts formed a major portion of the order book

Margins on decline year on year

Company's second attempt to issue IPO
Valuation as compared to its peers: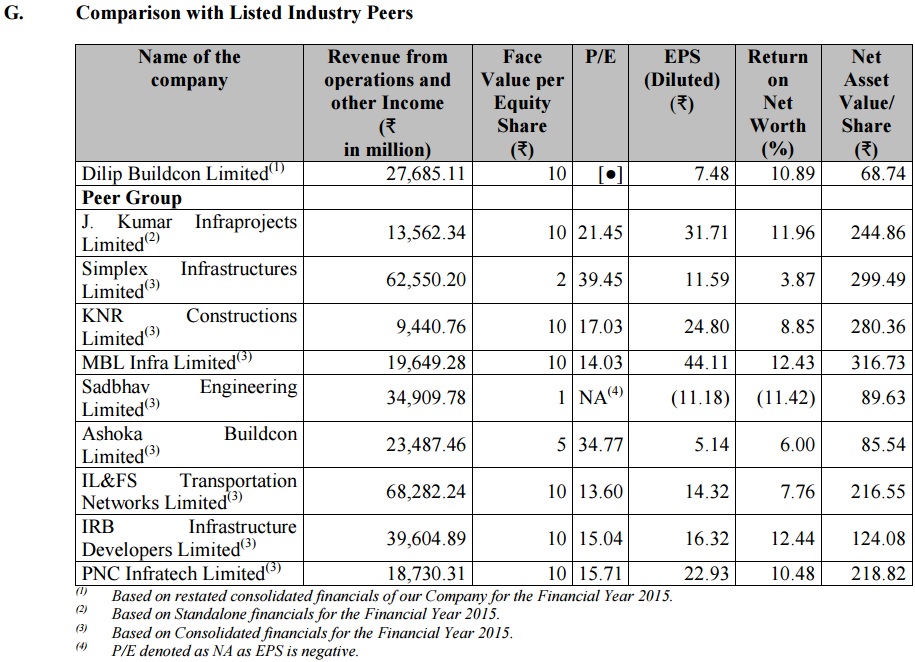 At the price band Rs 214-219, the stock is valued at 11.7-11.4 times its trailing FY16 EPS, which is at a 25% discount to some its peers like KNR Constructions,
Anchor Investors:  The company has allotted 89,58,592 shares at Rs 219 per share aggregating Rs 196.19 crore to 10 anchor investors.

The anchor investors include Smallcap World Fund, Abu Dhabi Investment Authority, HDFC Trustee Company, Nomura Singapore, DB International (Asia), IDFC Infrastructure Fund and East Bridge Capital Master Fund.
Should you invest:   Investors can invest for medium to long term , but AVOID for any listing gains.
Disclaimer:  The articles or analysis on this website should not be constituted as Investment advice. Please consult your financial advisor before making any investments.