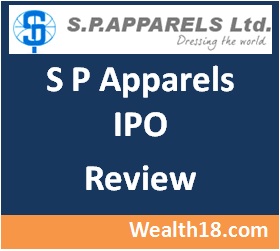 S P Apparels IPO is opening for subscription from Aug 2 to Aug 4 at a price band of Rs 258-268 per share.
Grey Market Premium:  IPO Grey Market Premium (GMP) helps in deciding the premium of the IPO Shares on listing day. It is just an estimate. With the Price Band of Rs. 258 – 268 for S P Apparels IPO, current Grey Market Premium is between Rs 10-11 per equity share which converts to approx 4% Premium on the price of upper band. Note: This is just an estimate.
Issue Details
IPO Open :  2nd Aug to 4th Aug 2016

Issue Price band:  Rs 258 – Rs 268 per share

Issue Size:  Rs 215 crore

Market lot : 55   

Minimum Investment : Rs 14740 at upper price band

Lead Managers : Motilal Oswal, Centrum
Background:
S P Apparels, a manufacturer and exporter of knitted garments based in Tirupur.  The business of the company consists of garments division for manufacture and export of knitted garments for infants and children and the retail division for manufacture, distribution and marketing of products in India under the Crocodile brand.
With 40 retail showrooms, the company propose to open another 70 stores, including franchisee in the next three years
The future plans – though the company was totally concentrating in infants, children and menswear (Crocodile) as of now, it may foray into women's garments in the future.
They mainly export their products to United Kingdom. During FY16, the company exported approximately 35.98 million pieces of knitted garments for infants and children directly to its international customers, including TESCO and Primark.
SP Apparels operates 21 manufacturing facilities in and around the region of Avinashi in Tamil Nadu. Company has 4,874 sewing machines, eight cutting machines, 79 embroidery machines, 17 printing machines, 16,896 spindles and 22 dyeing machines. Discuss this IPO on Chittorgarh.com, the most active IPO discssion forum.
Objective of the issue:
The public issue comprises a fresh Issue and an offer for sale by the selling shareholders.
1. The Offer for Sale:  S P Apparels will not receive any proceeds from the Offer for Sale.
2. The Fresh Issue:  The proceeds from the fresh issue will be utilised towards the following objects:
Repayment or prepayment of debt incurred by the Company;

Expansion and modernization of their manufacturing facility at Valapady, Salem, Tamil Nadu;

Addition of balancing machineries for their existing dyeing unit at SIPCOT, Perundurai;

D. Opening of new stores for the sale of 'Crocodile' products; and

General corporate purposes.
The funds will be used for strengthening backward linkage, for working capital, repaying debt, apart from expansion of its retail network in the country.
IPO Issue Allocation
QIB – 50% allocation

Non-Institutional – 15% 

Retail Individual – 35%
Financials:
 

in Crores

 

31-Mar-16

31-Mar-15

31-Mar-14

31-Mar-13

31-Mar-12

Total Assets

578.00

         530.4

         537.0

         540.2

         550.6

 

 

 

 

 

 

Total Revenue

542.00

         482.5

         453.3

         430.0

         402.5

Growth

12.3%

6.4%

5.4%

6.8%

 

 

 

 

 

 

 

Profit After Tax (PAT)

37.4

            10.9

              7.2

              3.1

            11.8

 

242.6%

52.7%

127.7%

-73.5%

 
Risk Factors
Generate Low profits over last years

Low Revenue growth
Valuation as compared to its peers:
At the upper price band Rs 268, the stock is valued at 15.6 times (P/E) its trailing FY16 EPS of 17.15.  EPS for last 3 years is 11.08 and PE comes out to 24.1 
Its peers like Kitex Garments is trading at a PE of 20
So the valuation for S P Apparel IPO is not cheap.
Anchor Investors:  Anchor investor can bid on Aug 1,  one working day prior to the issue opening date.
Should you invest:  As the revenue growth and profit margin is less, the valuation is expensive as compared to peers, you should consider NOT subscribing the issue.
Disclaimer:  The articles or analysis on this website should not be constituted as Investment advice. Please consult your financial advisor before making any investments.