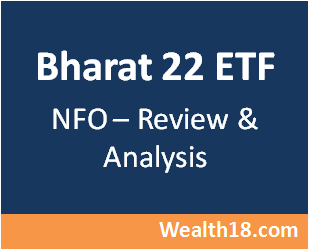 Bharat 22 exchange traded fund (ETF) is all set to open for public subscription. The NFO will start on 15th Nov and closes on 17th Nov.
The ETF will mirror the S&P BSE Bharat 22 Index that comprises of selected companies from CPSE universe, stakes held under SUTTI and public sector banks. This include:
For portfolio diversification, weighting of individual index constituent is capped at 15 per cent while weighting of each BSE sector is capped at 20 per cent.
As part of the NFO, an upfront discount of 3 per cent would be offered to all categories of investors. 
The initiative is a part of the government's disinvestment program, announced earlier by the Department of Investment and Public Asset Management (DIPAM), Ministry of Finance and the government of India  The government intends to raise in excess of Rs 8,000 crore from the NFO. 
Key Features:
Investment in S&P BSE Bharat 22 Index companies

Minimum application for Retail Investors: Rs 5000

Exit Load – Nil

Upfront discount of 3%
How this is different from CPSE – ETF
A key difference between the CPSE ETF and the Bharat-22 ETF is in the list of stocks. The Bharat-22 ETF will have a greater diversity in its investments while CPSE companies are primarily from energy sector.
Bharat 22 ETF
 CPSE ETF

1. ITC (through SUUTI): 15.2%




2. SBI (State Bank of India): 8.6%




3. Power Grid Corporation: 7.9%




4. Axis Bank (through SUUTI): 7.7%




5. NTPC: 6.7%




6. ONGC (Oil and Natural Gas Corp): 5.3%




7. Indian Oil Corp: 4.4%




8. BPCL (Bharat Petroleum Corp Ltd): 4.4%




9. NALCO: 4.4%




10. Coal India: 3.3%




11. BEL (Bharat Electronics Ltd): 3.3%




12. EIL (Engineers India Ltd): 1.5%




13. Bank of Baroda: 1.4%




14. REC (Rural Electrification Corp): 1.3%




15. NHPC: 1.2%




16. PFC (Power Finance Corp): 1%




17. NBCC: 0.6%




18. NLC India: 0.3%




19. Indian Bank: 0.2%20. SJVN Ltd: 0.2%

 1. Oil and Natural Gas Corporation of India (ONGC)




2. REC




3. Coal India




4. Container Corporation of India




5. Oil India




6. Power Finance Corporation




7. GAIL




8. Bharat Electricals Limited (BEL)




9. Engineers India Limited (EIL)

10. Indian Oil
Returns: Bharat 22 index has given superior returns over Sensex & Nifty over last 10 years.

Summary
Although this ETF is diversified as compared to CPSE, but it is still thematic with focus on PSU sectors.  The portfolio might benefit from the government reforms, but for normal retail investors, diversified equity funds can be better option. Aggresive investors may consider to take exposure of 5-19% of overall portfolio.