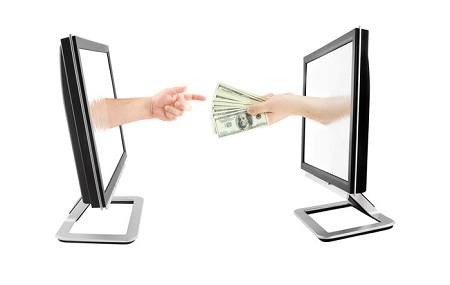 In banking context, you must have heard phrases like "NEFT transfer"& "RTGS".  In this post, we will discuss – what is NEFT & RTGS, how they are different, charges, and process of using NEFT & RTGS etc.
A. What is NEFT & RTGS?
National Electronic Fund Transfer (NEFT) and Real Time Gross Settlement (RTGS) are two main system of transferring funds from one bank to another.  These systems are managed by RBI and it allows transferring funds across banks within the country.
B. NEFT – National Electronic Fund Transfer
NEFT operates on a deferred net settlement (DNS) basis and settles transactions in batches.  All transactions received till a particular cut-off time is settled in batches.
Presently, NEFT operates in hourly batches – there are twelve settlements from 8 am to 7 pm on week days (Monday through Friday) and six settlements from 8 am to 1 pm on Saturdays.
Any transaction initiated after the designated time would have to wait till the next settlement time.
1. NEFT Cut-Off time
The last NEFT settlement is done at 7pm on weekdays & 1pm on Sat.  The cut off time is set as per the last batch processed by each banks. Some banks have cut off time as 18.45 pm or 18:30pm on weekdays and 12.45 pm or 12:30pm on Saturdays.
2. Who can transfer funds using NEFT?
Individuals, firms or corporate maintaining accounts with a bank branch can transfer funds using NEFT.
Even those who do not have a bank account (walk-in customers) can also deposit cash at the NEFT enabled branch with instructions to transfer funds using NEFT. However, such cash remittances will be restricted to a maximum of Rs.50,000/- per transaction.
Such customers have to furnish full details including complete address, telephone number, etc.
NEFT, thus, facilitates originators or remitters to initiate funds transfer transactions even without the need for having a bank account.
3. Are all bank branches in the country part of the NEFT funds transfer network?
About 90% of Bank branches are NEFT enabled. You can check whether a branch is NEFT enabled or not at RBI link:
https://www.rbi.org.in/Scripts/bs_viewcontent.aspx?Id=2009
4. Information required for NEFT processing
Your & beneficiary details

Name

Bank Branch

Indian Financial System Code  – IFSC

Account number & type
You can transfer funds through net banking or issue a cheque to transfer funds.
C. RTGS – Real Time Gross Settlement
'RTGS' stands for Real Time Gross Settlement, which can be defined as the continuous (real-time) settlement of funds transfers individually on an order by order basis (without netting).
'Real Time' means the processing of instructions at the time they are received rather than at some later time. 'Gross Settlement' means the settlement of funds transfer instructions occurs individually (on an instruction by instruction basis).
The RTGS system is primarily meant for large value transactions.
Under normal circumstances the beneficiary branches are expected to receive the funds in real time as soon as funds are transferred by the remitting bank. The beneficiary bank has to credit the beneficiary's account within two hours of receiving the funds transfer message.
The RTGS service window for customer's transactions is available from 9.00 hours to 16.30 hours on week days and from 9.00 hours to 13.30 hours on Saturdays for settlement at the RBI end. However, the timings that the banks follow may vary depending on the customer timings of the bank branches.
D. How much money can be transferred?
NEFT – No Minimum, No Maximum
RTGS – Minimum – 2 lakhs, No maximum
However, banks may restrict the amount you can transfer in one day. For example, HDFC Bank allows a maximum of Rs 10 lakh to be transferred in a day.
E. Charges for NEFT & RTGS

RBI has set the maximum charges which can be charged by Banks for NEFT & RTGS transfer.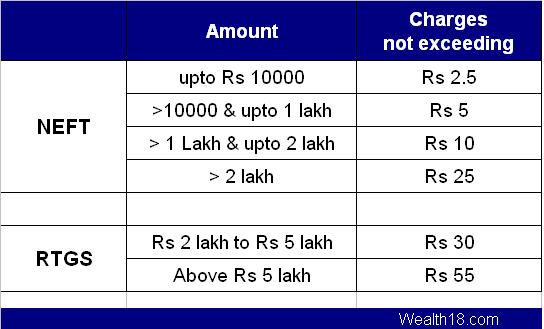 However, banks are free to set lower charges. Some banks do not charge for NEFT transfer for online netbanking request / for preferred accounts / customers.
RTGS charges also vary based on time. Afternoon transfer requests cost more than morning RTGS requests.
F. What is IFSC?
IFSC or Indian Financial System Code is an alpha-numeric code that uniquely identifies a bank-branch participating in the NEFT system. This is an 11 digit code with the first 4 alpha characters representing the bank code, 5th character is 0 (zero) and the last 6 numeric characters representing the branch code. 
RBI had since advised all the banks to print IFSC on cheques leaves issued to their customers. IFSCs are available on the website of Reserve Bank of India at
https://www.rbi.org.in/scripts/neft.aspx
Difference between RTGS & NEFT –  NEFT & RTGS timings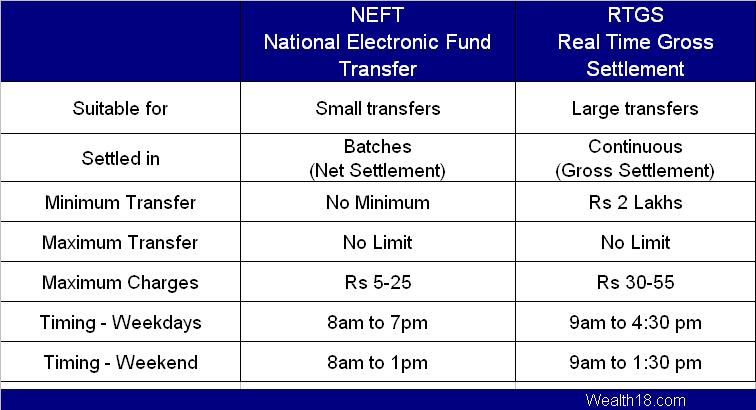 You can download NET form or RTGS form from banks website – HDFC Bank,  SBI,  ICICI Bank, IDBI, CitiBank, Standard Chartered Bank,  PNB, Corporation Bank, Axis Bank, Kotak Bank.  You can also confirm RTGS & NEFT timings for these banks on theor websites or by visiting nearest branch.
Feel free to comment or ask or share your experience regarding NEFT / RTGS.