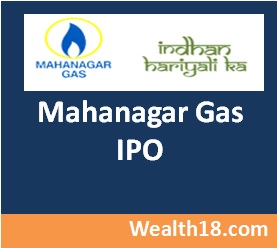 Check MGL IPO Allotment Status, Listing date and price –  
30th June – MGL IPO shares are allotted now. The listing date is 1st July. You can check the allotment status at the link –
Direct link – https://mglipo.linkintime.co.in
https://www.linkintime.co.in/publicissues/default.aspx
Many retail investors who have applied for full Rs 2 Lakh, they have not got any allotment. The allotment is done on a lottery basis. So dont be surprised if you have not received any allotment.
Also Read:  Quess Corp IPO has opened on 29th June 2016, closing on July 1. See details & review.
L&T Infotech IPO opening on July 11 2016. See details & review.
[xyz-ihs snippet="ad1″]
——————————————————
MGL IPO Subscription Update – 23-June 2016 (Day 3 Last day) : MGL IPO subscribed 65 times on day 3
The qualified institutional buyer (QIB) segment was subscribed around 73 times,

high networth individual (HNI, or rich) segment saw a whopping 192 times subscription,

 the retail (small investor) category saw nearly 6 times more demand than the shares on offer
MGL IPO Subscription Update – 22-June 2016 (Day 2) : MGL IPO subscribed 3.92 times on day 2
The institutional investor category of 4.89 million shares was subscribed 6.44 times.

The non-institutional category comprising high net-worth individuals drew 2.38 times the shares reserved for the category.

Retail individual investors, whose investments cannot exceed the maximum cap of Rs.2 lakh in an IPO,

applied for 3.22 times the shares on offer

, stock exchange data showed.
Update – 21-June 2016: MGL IPO subscribed 1.08 times on day 1.
On NSE, QIB quota was subscribed 1.59 times, non-institutional investor quota 0.15 times and retail individual investor quota 0.37 times.

On BSE, the QIB quota was subscribed 0.22 times, non-institutional investor 0.07 times and the retail quota 0.71 times.
Also read :  Quess Corp IPO will open from June 29 to July 1 – Details & Overview
Mahanagar Gas Limited, India's second biggest CNG retailer, is ready to hit the market with its initial public offering (IPO) on 21st June 2016. 
Issue Details
IPO Open :  21st June to 23 June 2016
Issue Price band:  Rs 380-421

Issue Size:  approx Rs 1040 crore

Market lot : 35
IPO Issue Allocation
Qualified institutional buyers (QIBs) –  50% per cent of the total issue size.

Non-institutional investors (NIIs) –  15% per cent of the issue size.

The retail quota limit in the issue = 35%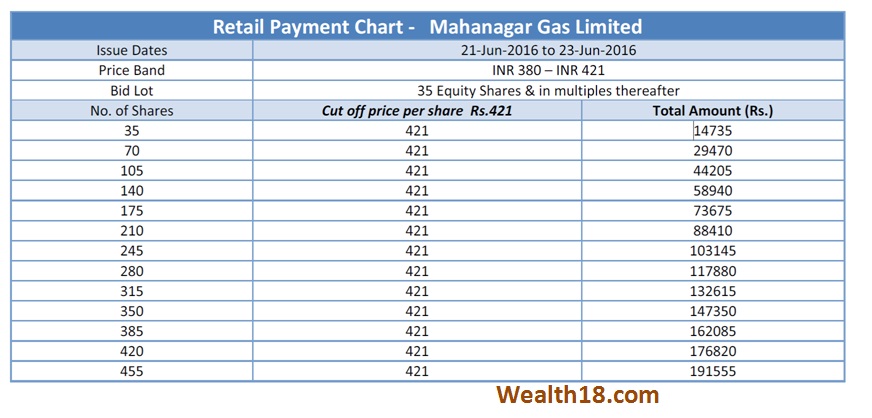 Objective of the issue:
The objects of the Offer are to achieve the benefits of listing the Equity Shares on the Stock Exchanges and to carry out the Offer for Sale. The listing of the Equity Shares will enhance MGL's brand name and provide liquidity to the existing shareholders. Listing will also provide a public market for the Equity Shares in India. MGL will not receive any proceeds from the Offer and all proceeds from the Offer shall go to the Selling Shareholders.
Background:
Mahanagar Gas Limited (MGL) is one of India's leading natural gas distribution companies. Established in 1995, MGL is a joint venture between GAIL (India) Ltd. and the British Gas (U.K.).It has more than 20 years of experience in supplying natural gas in Mumbai and is presently the sole authorised distributor of CNG (Compressed Natural Gas) and PNG (Piped Natural Gas) in Mumbai, its Adjoining Areas and the Raigad district in the state of Maharashtra, India.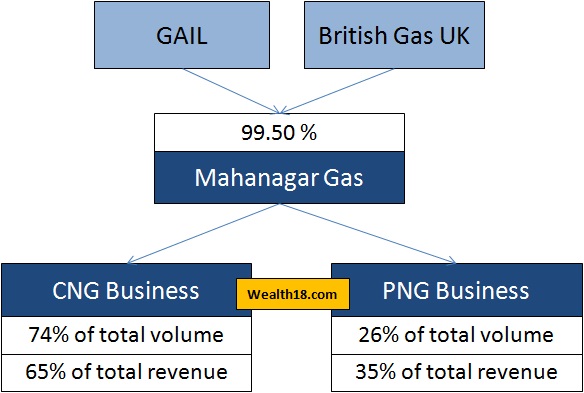 Pre-IPO, MGL have sold 10% stake in MGL to Maharashtra government and post public sale of 25 %  through the IPO, GAIL and BG would hold about 32.5 %  stake each
MGL distributes CNG for use in motor vehicles and PNG for domestic household use as well as for commercial and industrial use. 
MGL distributes natural gas through an extensive CGD (City Gas Distribution) network of pipelines, for which it has the exclusive authorisation to lay, build, expand and operate the CGD network in accordance with the Petroleum and Natural Gas Regulatory Board (Exclusivity for City or Local Natural Gas Distribution Network) Regulations, 2008 in Mumbai until 2020, its Adjoining Areas until 2030 and the Raigad district until 2040.
As at June 30, 2015, it supplied CNG to over 0.43 million vehicles through its network of 180 CNG filling stations, The number of CNG operated motor vehicles has grown steadily at a CAGR of 12.42% from March 31, 2009 to June 30, 2015 in Mumbai and its Adjoining Areas.

MGL provided PNG connection to approximately 0.82 million domestic households, over 2,600 commercial and 55 industrial consumers in Mumbai and its Adjoining Areas.

 As at June 30, 2015, MGL had a supply network of over 4,464 kms of pipelines, including approximately 4,057 kms of polyethylene (medium and low pressure) pipeline (PE pipeline) and 407 kms of steel pipeline, and 180 CNG filling stations.
In the last five Fiscals, MGL has set up 3 CGSs, 36 CNG filling stations, laid down 132.61 kms of steel and 1,272.63 kms of PE pipeline (including medium and low pressure PE network), and added 0.31 million PNG customers.
MGL intends to 80 CNG filling stations and add over 800 kms of steel pipeline and PE pipeline and during the next five years, in its areas of operations. In order to diversify its portfolio of CNG filling stations, MGL intends to set up a higher number of CNG filling stations that would be owned and operated by it.
There are significant entry barriers for competitors to enter into MGL's area of operation, such as its infrastructure exclusivity, the requirement of large investments to establish a natural gas distribution network, lead time in the allocation of domestic natural gas and obtaining the required regulatory approvals.
Industry growth:
The Indian City Gas Distribution (CGD) market size was estimated at INR 24000 crores in 2014, with sales volumes of 20 MMSCMD (million standard cubic metre per day), accounting for 13% of India's total natural gas consumption.
Natural gas consumption grew at a CAGR of 3.7% over the previous five years to 144 MMSCMD in Fiscal 2014 from 120 MMSCMD in Fiscal 2009, driven by growth in consumption from sectors such as power, fertilisers and CGD. ICRA Research believes the natural gas 'demand potential' will rise to approximately 280 MMSCMD by Fiscal 2020 and further to approximately 314 MMSCMD by Fiscal 2025 from the current demand potential of more than 225 MMSCMD.
Financials: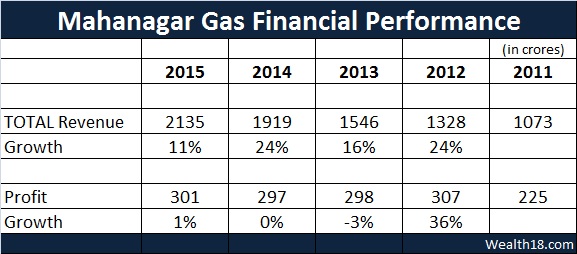 In Fiscals 2015 and 2014, MGL's capital expenditure (additions to gross block and increase in capital work in progress) was Rs 1,902.52 and Rs 1,773.23 million, respectively, which was used primarily for the expansion of its pipeline network.

MGL has a strong balance sheet with, as of June 30, 2015, equity capital of Rs 893.42 million, accumulated reserves of Rs 13,959.59 million and debt of `Rs 155.88 million on account of an unsecured interest free sales tax deferment loan and 9% unsecured compulsory convertible debentures. 

The return on average capital employed* was 22.08% in Fiscal 2015 as compared to 26.27% in Fiscal 2011. In addition, its net cash flows from its operating activities (after tax) were Rs 1,254.20 million for the three months ended June 30, 2015, Rs 4,267.14 million in Fiscal 2015 and Rs 3,976.48 million in Fiscal 2014.
Competitors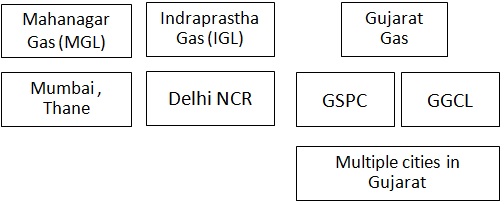 In terms of the geographical break-up, Delhi, Mumbai and Gujarat collectively account for 70% of the country's total sales volumes. Gujarat accounts for approximately half of the industrial demand, whereas Delhi and Mumbai constitute approximately 60% of CNG demand.
Peer Comparison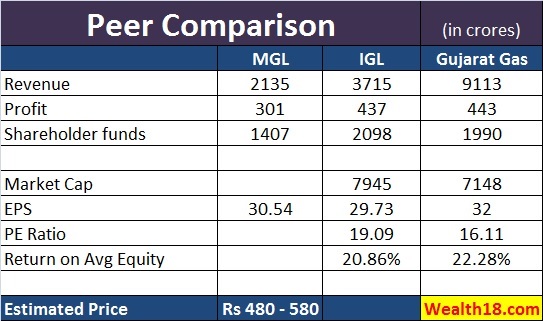 Based on other competitors market price, MGL IPO is priced attractively.
Risk Factors
A majority of natural gas supply requirements are met by the allocation of domestic natural gas from the MoPNG at a price determined in accordance with the New Domestic Natural Gas Pricing




Guidelines 2014. Any increase in the cost price of natural gas or any reduction in allocation amount of domestic natural gas may have an adverse effect.

Revenue largely delended on CNG Business

Natural gas marketing exclusivity in Mumbai and its Adjoining Areas is subject to determination before the Delhi High Court. In case of adverse decision, any entity can distribute natural gas in Mumbai and its Adjoining Areas, by payment of transportation tariff.
Anchor Investors:  
Pre-IPO, MGL have sold 10% stake in MGL to Maharashtra government and post public sale of 25 %  through the IPO, GAIL and BG would hold about 32.5 %  stake each.
BNP Paribas, Morgan Stanley, DB International Asia, Abu Dhabi Investment Authority, Merrill Lynch Capital market and DSP Blackrock are among the anchor investors that subscribed to this issue.
Valuation as compared to its peers:  Attractively Priced
Brokerage Recommendations:
| | |
| --- | --- |
| Motilal Oswal | Subscribe |
| Way2Wealth | Subscribe |
| Choice Broking | Subscribe |
| Ajcon Global | Subscribe |
| ICICI Direct | Subscribe |
| GEPL Capital | Subscribe |
| Hem Securities | Subscribe |
| Edelweiss Securities | Subscribe |
| Centrum Broking | Subscribe |
| IIFL Private Wealth | Subscribe |
| Reliance Securities | Subscribe |
Should you invest:   
As per financial reports, the net profit is not growing. However, at the current price band (380-421), the MGL IPO is priced attractively.  Positive factors:
At upper price, the approx PE ratio will be 14, which is much attractive as compared to IGL (PE 19)  & Gujarat Gas (PE 16).  

Debt free balance sheet,

positive operating cash flows

MGL has consistently maintained a dividend payout ratio of over 50% and dividend per share of Rs. 15.8 per share. This translates into a dividend yield of 3.8% on the higher price band.
As per moneycontrol, grey market was expecting the IPO price of Rs 480 + additional Rs 100 premium. Also, Maharashtra government is now holding 10% stake in MGL. 
Disclaimer:  The articles or analysis on this website should not be constituted as Investment advice. Please consult your financial advisor before making any investments.