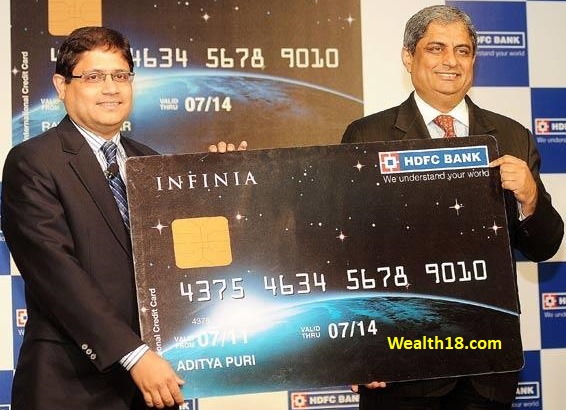 HDFC Infinia is a super premium credit card by HDFC Bank that provides many benefits around travel and dining. 
You can get the card effectively for free (based on annual spend or get equivalent points).

Also, the reward points redemption value for this HDFC credit card is best as you can get upto 33% off on certain spending.  Check out HDFC 10x rewards program.
HDFC Infinia Credit card Benefits
---
Unlimited Complimentary Airport Lounge Access (for Primary and Add-on member) :   HDFC Infinia card gives you a complimentary Priority Pass Membership that allows you preferential access* to 1000+ airport lounges globally. Primary card and add-on Card holders may utilize the refreshment and business center facilities at these lounges. Please note that the presentation of the Priority Pass card at the participating airport lounge is mandatory to avail access.  Normally, complementary access is for primary holder only, but this credit card allows complementary access to add-on card holders also, which is a good offer.
For Lounge visits within India, Infinia Primary Cardholders can avail 4 complimentary lounge access per quarter through Infinia Visa/Mastercard Card Lounge program.
---
Dining Benefit: Enjoy amazing dining benefits with Good Food Trail program (T&C)
Get complimentary Dineout passport membership for a year that offers 
Assured flat 25% off at 2000+ premium restaurants

1+1 on buffet at 200+ restaurants

1+1 on Food / Drinks on select restaurants

Zero convenience fee

Early access to events and festivals such as GIRF
Get additional 15% off on all your bill payments via Dineout Pay (10k + restaurants)
---
Lowest foreign currency markup fee:   HDFC Bank Infinia Credit Card offers you the lowest markup fee of 2% on all foreign currency transactions.
---
Complementary Golf: Unlimited Complimentary golf games at leading courses across India and select courses across the world. Unlimited complimentary Golf coaching at select golf courses across India
Lessons and Gold games (Domestic and International)  – Details
---
Fuel fees Waiver:  Convenience fee waiver of 1% on all fuel transactions. The waiver on convenience fee on all fuel transactions upto INR 1,00, 000(Maximum waiver of INR 1000 per statement cycle, Minimum transaction of INR 400).  Fuel surcharge varies from 2.5% to 1% of fuel transaction amount. The rate of surcharge may vary depending on the fuel station and their acquiring bank.
---
HDFC  Infinia Concierge:   As an HDFC Bank Infinia Credit Card customer, you can customize your travel, entertainment, and business experiences with Global Concierge Assistance.   Toll Free No.: 1800 118 887 Landline No.: 022 42320226    Email ID : membersupport@hdfcbankinfinia.com
---
No cash withdrawal fee: Withdraw cash of upto 40% of your credit limit without any cash withdrawal charges.
---
Addon card:  You can get upto 3 add-on Infinia Cards for your spouse, parents, siblings and children over 18 years and not more than 70 years. The prevailing KYC policy will apply for add-on applicants. 
Rewards Collection
---
​Earn 5 Reward Points on every Rs.150, on all retail* spends including Insurance, Utilities, Education and Rent Pay

Enjoy 2X Reward Points i.e. 10 Reward Points for every Rs. 150 spent on Dining spends at stand-alone restaurants

Enjoy upto 10X Reward Points (i.e. 50 points) for every Rs 150 spent on your travel and shopping spends on Smartbuy 

Flights & Hotels – 10x

Amazon – 5x (reduced from 10x)

FlipKart – 3x (reduced from 10x)

Trains -5x

Buses – 10x

Oyo Rooms – 10x

Instant Vouchers – 10x
Exceptions:  Reward points will not be accrued for fuel transactions, EasyEMI and e-wallet loading transactions, SmartEMI, Insurance transactions more than Rs 2000.
Max caps of the Bonus rewards that you can earn through Smartbuy is :
| | |
| --- | --- |
| Infinia | 15000 points |
| Diners Black | 7500 points |
| Regalia / Diners Privilege Credit card | Rs 2000 cashback |
Rewards Redemption
---
You can redeem reward points at 
Travel bookings on dedicated HDFC Infinia site  ( 1 reward point = Rs 1) 
Exciting gifts from an exclusive rewards catalogue   

( Electronics,  e-vouchers for shopping, restaurants etc)  ( 1 reward point = approx Rs 0.5) 

AirMiles of leading domestic and international airlines

Cashback at a value of 1 RP = Rs 0.30

HDFC Infinia points value –  Based on the reward points and redemption value (HDFCBankInfinia site) –

you will get a cashback of 3.33% on normal spending and

you will get a cashback of 6.66% on on dining spending . 

you will get a massive cashback equivalent to 33.33% for spending on HDFC SmartBuy Portal.
On Infinia smartbuy site, the point value is Rs 1 and on other redemption options, the point value is dropped to Rs 0.50
Insurance included in the credit card
---
Accidental death: In case of death in an air accident, the nominated next of kin will receive a compensation of Rs 3 crore. Note that Air Accident cover will be activated if the tickets are purchased using HDFC Bank Infinia credit cards.
Medical emergency cover: The card holder is covered up to Rs 50 lakh against medical emergencies during travel abroad
HDFC Infinia Card Eligibility :  
---
The HDFC Bank Infinia Card is available by invitation only.  If you have good amount of transactional relationship with HDFC (i.e. other credit card with high volume of transactions, FDs etc), you can check with your relationship manager to get the HDFC Infinia card.
HDFC Infinia Card for NRI – Non Resident (NR) Infinia Credit Card is offered to NR account holders
Credit Limit  :The HDFC Bank Infinia Credit Card comes with a minimum credit limit of Rs 10 lakh and the unique NPSL* (No Pre-set Spending Limit) feature. 
How to activate HDFC Infinia credit card:  Activation is defined as first purchase at a retail outlet or cash withdrawal from an ATM using the HDFC Bank Infinia Credit Card.
HDFC Infinia credit card customer care:   Dedicated Customer Care Number for HDFC Bank VISA INFINIA Credit Card members: 1800 102 3310 and 022-28561443 (Available round the clock)  E-mail: infinia.services@hdfcbank.com
Fees
---
First year fee is Rs 10,000+GST
Annual renewal membership fee is Rs 10,000+GST. 
If the renewal fee is levied, 10000 reward points will be credited to the customer account.(Reward point=1) (when redeemed on www.hdfcbankinfinia.com) , so effectively the card will be FREE for you.
The customer however can enjoy waiver of the renewal fee if the spends are minimum Rs 8,00,000 within the 12 months (i.e. approx Rs 67000 per month).
Summary
---
This card will be useful for the people are travelling frequently (or book flights / hotels for family) as the best value on reward points collection and redemption is on flight and hotel booking. Major benefits are related to lounge access for primary and add-on card holders.  
Also, note that you get the 10000 reward points every year (if renewal fees is paid), so effectively the card is free for you.
---
There are many credit cards offered by HDFC bank with different features including discount on movies, groceries, dining as well as air travel and hotels, free international and domestic lounge access. Some of the cards offers redemption rewards equivalent to 13%-33% cashback, that's pretty amazing. See list of all credit cards offered by HDFC Bank and check which one you should go for.