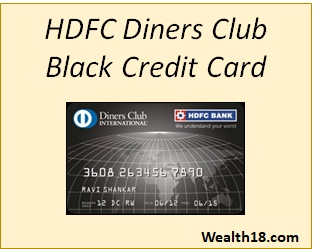 HDFC Diners Club Black Credit Card is  a premium credit card by HDFC Bank that provides many benefits around travel and dining. You can get upto 33.3% worth of reward value from this credit card. 
HDFC Diners Club Black Credit card Benefits
---
Unlimited Complimentary Airport Lounge Access (for Primary and Add-on member) : 
Unlimited Airport lounge access to 1000+ Lounges in India and worldwide for primary and add-on card members. Click here for the list of lounges. Previous this benefit was for primary card holder only, but now it has been extended to add-on members only (similar to Infinia credit card).
---
Dining Benefit: Enjoy amazing dining benefits with Good Food Trail program (T&C)
Get complimentary Dineout passport membership for a year that offers 
Assured flat 25% off at 2000+ premium restaurants

1+1 on buffet at 200+ restaurants

1+1 on Food / Drinks on select restaurants

Zero convenience fee

Early access to events and festivals such as GIRF
Get additional 15% off on all your bill payments via Dineout Pay (10k + restaurants)
---
Lowest foreign currency markup fee:   HDFC Bank Infinia Credit Card offers you the lowest markup fee of 1.99% on all foreign currency transactions.
---
Complementary Golf: Complimentary Golf games across the finest courses in the world ( 6 per quarter)      
For Domestic Golf Courses details, click here
International Golf Courses (handicap certificate mandatory), click here. 
​​​Click here for detailed T&C and FAQ on the golf program
---
Fuel fees Waiver:  1% fuel surcharge waiver at all fuel stations across India  (on minimum trasaction of ₹400. Max CashBack of ₹1000 per statement cycle)
---
HDFC  Concierge:   As an HDFC Bank Diners Club Black Credit Card customer, you can customize your travel, entertainment, and business experiences with Global Concierge Assistance.   Toll Free No.: 1800 118 887 Landline No.: 022 42320226    
---
Addon card:  You can get upto 3 add-on Infinia Cards for your spouse, parents, siblings and children over 18 years and not more than 70 years. The prevailing KYC policy will apply for add-on applicants. 
---
Other benefits:
Wellness Benefits: Exclusive discounts at leading spas, salons, gyms and other wellness retreats. Click here to view details.

Avail Complimentary Annual memberships of Club Marriott, Forbes, Amazon Prime, Zomato Gold, MMTDOUBLEBLACK and Times Prime by spending 1.5 lakhs within the first 90 days or upon first year fee realisation on your HDFC Bank Diners Club Black Credit Card. The benfits can be renewed

upon achieving annual spend  of Rs 8 Lakhs at the time of card anniversary. See details

Select any 2 monthly vouchers from Ola Select membership or cure.fit Live 1 month membership or BookMyShow or TataCLiQ worth Rs. 500 each,  every month on spends of Rs. 80,000
Rewards Collection
---
​Earn 5 Reward Points on every Rs.150, on all retail* spends 

Enjoy 2X Reward Points i.e. 10 Reward Points for every Rs. 150 spent on Weekend Dining spends 

Enjoy upto 10X Reward Points (i.e. 50 points) for every Rs 150 spent on your travel and shopping spends on Smartbuy 

Flights & Hotels – 10x

Amazon – 5x (reduced from 10x)

FlipKart – 3x (reduced from 10x)

Trains -5x

Buses – 10x

Oyo Rooms – 10x

Instant Vouchers – 10x
Exceptions:  Reward points will not be accrued for fuel transactions, EasyEMI and e-wallet loading transactions, SmartEMI, Insurance transactions more than Rs 2000.
Max caps of the Bonus rewards that you can earn through Smartbuy is :
| | |
| --- | --- |
| Infinia | 15000 points |
| Diners Black | 7500 points |
| Regalia / Diners Privilege Credit card | Rs 2000 cashback |
• Rewards Points are valid only for 3 years from the date of accumulation.
Rewards Redemption
---
You can redeem reward points at 
Travel bookings on dedicated HDFC Diners Club site  ( 1 reward point = Rs 1)  For flight and hotel bookings, HDFC Bank Diners Club Black card members can redeem upto maximum of 70% of booking value through Reward Points. Rest will have to be paid via Credit Card.
Redeem Rewards Points on exclusive reward redemption catalogue for HDFC Bank Diners Club Black Credit Cards  

( Electronics,  evouchers for shopping, restaurants etc)  ( 1 reward point = approx Rs 0.5) 

Redeem Rewards Point for AirMiles across InterMiles, Singapore Airlines (KrisFlyer Miles), Club Vistara , (1 Reward Point = 1 Airmile). Please complete Frequent flyer registration before attempting Airmiles redemption in NetBanking.  

Cashback at a value of 1 RP = Rs 0.30

HDFC Diners Club Black points value –  Based on the reward points and redemption value (HDFCBank Diners Club site) –

you will get a cashback of 3.33% on normal spending and

you will get a cashback of 6.66% on on dining spending . 

you will get a massive cashback equivalent to 33.33% for spending on HDFC SmartBuy Portal.
Insurance included in the credit card
---
Air AccidentCover of INR 2 Crore.

Emergency Medical Expenses Cover of up to INR 50 Lakh

Credit Liability Coverof up toINR 9 Lakh

Travel Insurance Cover of up to INR 55,000 on baggage delay (Capped to 10$ per hour restricted to 8 hours)
HDFC Diners Club Black Credit Card Eligibility :  
---
The HDFC Diners Black Card is available for following: 
Salaried:  Net Monthly Income > Rs 1.75 Lakhs per month

Self Employed:  ITR  > Rs 21 Lakhs per annum
Fees
---
First year fee is Rs 10000  and  Annual renewal membership fee is Rs 10000 
The customer however can enjoy waiver of the renewal fee if the spends are minimum Rs 5,00,000 within the 12 months (i.e. approx Rs 41666 per month).
While it is not specifically mentioned, members have highlighted that there is a Welcome Benefit of 10,000 Reward Points and renewal benefit of 10000 Reward Points.
Summary
---
This card will be useful for the people are travelling frequently (or book flights / hotels for family) as the best value on reward points redemption is on flight and hotel booking. 
For some spending, you get 10X reward points (i.e 50 reward points for Rs 150 spend – making the 33% rewards cashback.
The benefits of Diners Club Black credit card is similar to HDFC Infinia card, but the max bonus reward cap in the Diners Club Black card is limited to 7500 points per month.
---
I will write another post to compare the benefits of HDFC Diners Black card against HDFC Regalia First credit card, HDFC Regalia Card,  HDFC Infinia Card, and Amex Platinum card.
There are many credit cards offered by HDFC bank with different features including discount on movies, groceries, dining as well as air travel and hotels, free international and domestic lounge access. Some of the cards offers redemption rewards equivalent to 13%-33% cashback, that's pretty amazing. See list of all credit cards offered by HDFC Bank and check which one you should go for.