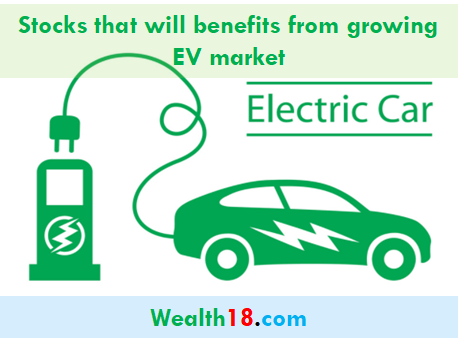 Do you agree that "electric vehicles" are the future? Have you thought – what stocks would be the best in the Indian electric vehicle market? I have tried to share some insights:
Electric Vehicle (EV) Industry in India
With the government's increased focus on green mobility, it is expected that EV market will grow and expand India's electric car fleet. By 2023, all three-wheelers will be battery-powered, and the majority of two-wheelers will follow suit by 2025.
Which stocks will get benefit of this growing market:
Electric Vehicle Makers:
Tata Motors: Tata Motors currently sells three hybrid vehicles: the Tigor EV, Nano EV, and Tiago electric. Projected to dominate the EV market as it is growing its R&D globally and in India. With a 50% market share of the electric passenger car segment, the company presently dominates the segment.
Mahindra & Mahindra Limited: Mahindra has introduced two new compact urban electric car models: the Mahindra e2o and the Mahindra e2o Plus.
Maruti Suzuki: The company is going to launch its electric vehicle Maruti Suzuki Wagon R electric vehicle. Maruti Suzuki is a market leader in India's auto sector, with a wide reach and strong levels of emotional attachment. It has the highest level of trust among Indian customers, and its EV-specific stocks expected to rise once it begins production.
Hero MotorCorp: It is the world's largest manufacturer in 2-wheeler segment. It has 34% stake in Bangalore based Ether Energy. Their plant in Hosur has started the production with an investment of more than Rs 630 crores.
Ashok Leyland: Ashok Leyland is India's leading manufacturer of electric buses, trucks, and security equipment. It has developed the first electric bus with flash-charge technology. The company's UK based subsidiary Switch Mobility Ltd is into the production of electric buses and vans
Greaves Cotton: The company recently acquired Coimbatore based "Ampere" and Haryana-based Bestway Agencies which specialises in electric mobility.
Himadri Speciality: Formed a new company "Motovolt Mobility Pvt Ltd" and invested Rs 100 crore to manufacture battery powered e-cycles.
| | |
| --- | --- |
| Stock | Date 24th July 2021 |
| Tata Motors | 295 |
| M&M | 754 |
| Hero Motocorp | 2810 |
| Ashok Leyland | 121 |
| Greaves Cotton | 167 |
Battery Market
Amar Raja Batteries:  As the main component of the electric vehicles is battery, India's second-biggest traditional battery maker Amara Raja is looking to build a Lithium-ion assembly plant soon. They have collaborated with Delhi government to set up charging station. Amara Raja launched EV charging stations and battery swapping stations in collaboration with Tirupati Municipal Corporation along with a fleet of electric auto-rickshaws as part of the central government's Smart Cities program.
Exide Industries: Exide sells automotive and industrial lead-acid batteries. Recently formed JV with Switzerland based company (in Jun 19) to manufacture lithium ion batteries and energy storage solutions.
Tata Chemicals: one of the largest producers of Soda-Ash. They are building an energy storage system and stationary charging stations and manufacture lithium ion cells.
Charging Infrastructure Stocks
Tata Power: Already installed 150+ power charging stations across 20 cities. Tata Power announced in July 2021 that it has signed an agreement with Hindustan Petroleum Corporation (HPCL) to provide end-to-end EV charging stations at HPCL's retail outlets (petrol pumps) in multiple cities and major highways across the country.
PowerGrid: Planning to install 20 charging station in 3 cities.
Indian Oil: Offering EV charging stations at all petrol pumps and battery swapping facility for additional revenue generation. Also planning install EV battery manufacturing plant with an Israel based company.
NTPC: NVVN has deployed 14 charging station at Andaman. Airport Authority of India has signed MOU with the company for set up EV charging station at the airports.
Auto Parts Segment
Minda Industries: World's best performing Indian auto parts maker Minda Industries will get a boost from the electric vehicle market. The company is in touch with original equipment manufacturers for possible EV-compatible systems and is evaluating existing products to see how they will fit into the market. Acquired L-Labs that specialises in EV segment
Motherson Sumi:  Motherson Sumi works with automakers around the globe in areas like wiring harnesses, rearview mirrors, cockpits, bumpers and more.
Sundaram Fastners: Already supplying parts to all the leading EV manufacturers.
Endurance Technologies:
Other Stocks that may get benefit
Vedanta
Hindalco
Graphite India
Hindustan Cooper
JBM Auto