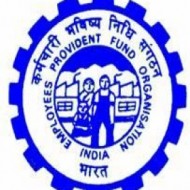 As per new EPFO Notification, Employees earning upto Rs 15,000 a month will come under the Employees' Provident Fund (EPF) net.
UPDATE (28-Aug) :   The formal notification is issued now and it will be effective from 01-Sep-2014.
Gazette Notification providing for increase in wage ceiling under EPS, 1995 from Rs. 6500/- to Rs. 15,000/- which shall come into force on and from the 1st day of Sept., 2014 – HO No. Acturial/18(2)2008/Vol. III/7738 dated 29/08/2014
Government has approved hike in the threshold for mandatory PF savings from Rs 6,500 a month to Rs 15,000.
Though the Manmohan Singh government had approved the hike in the EPF threshold this February after years of deliberations, the change couldn't be notified before the election code of conduct kicked in.
The Employees' Provident Fund Organisation or EPFO oversees the retirement savings of over 8 crore members at present and the number could go up sharply as those earning between Rs 6,500 and Rs 15,000 will come under its fold once the new rules are notified and implemented.
The EPFO's present ceiling for statutory contributions is a mere Rs 6,500 per month – lower than the minimum wage prescribed across the country.
On May 27, 2014, the Employee Provident Fund Office issued a circular permitting Companies to limit its PF contributions against the required salary ceiling limit of INR 6,500 per month. Earlier, such PF contributions was calculated as 12% of Basic Salary.    Now salary ceiling limit will be Rs 15000 for such contributions.  Read News.
———————
Also read other posts
August 2014 –  EPFO re-initate process to club allowances with basic pay, ordered inspection
https://wealth18.com/epfo-re-initate-process-to-club-allowances-with-basic-pay-ordered-inspection/
June 2014 – EPF threshold raised from Rs 6500 to Rs 15000 – New EPFO Notification
https://wealth18.com/epf-threshold-raised-from-rs-6500-to-rs-15000/
May 27 2014 – Employer can cap PF contribution limit to Rs 6500 Basic Salary – New EPFO Notification & Supreme court ruling
https://wealth18.com/employer-can-cap-pf-contribution-limit-to-rs-6500-basic-salary-new-epfo-notification/
Nov 2012 – New PF contribution rule may reduce your take home salary
https://wealth18.com/new-pf-contribution-rule-may-reduce-your-take-home-salary/