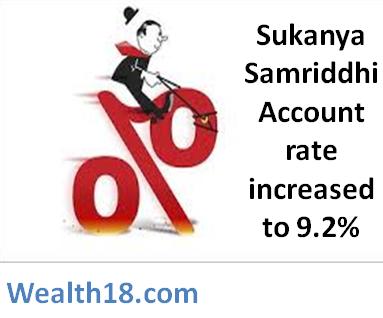 Investments in Sukanya Samriddhi Yojana, the special deposit scheme for girl child, will earn higher interest rate of 9.2 % for 2015-2016.
Rate on popular tax saving Public Provident Fund has been retained at 8.7 %  for 2015-16.
Rate for senior citizens savings scheme (SCSS) has been enhanced to 9.3 % from existing 9.2 %.
Kisan Vikas Patra interest earning has also been retained at 8.7 per cent.
It was decided by the Centre earlier that interest rates on small savings schemes will be linked to yields on government securities of comparable maturity. In pursuance of that decision, the government has decided to revise the rates applicable on various small savings schemes, it said.
Sukanya Samriddhi Account Scheme, the scheme to promote savings for girl child. Accounts in name of girl child can be opened in banks and post offices, and half of the fund can be withdrawn for her higher education and marriage after she attains 18 years of age.
Read more details about this scheme in my post – 
Sukanya Samriddhi Account Scheme – Details & Review
Sukanya Samriddhi Account – Application Form download for Bank or Post office
Sukanya Samriddhi Yojana Account– List of 28 banks to open this Account
Sukanya Samriddhi Account Scheme – Maturity value calculator