In my previous post, I explained the features of Sukanya Samriddhi Account. Summary of its features are:
Sukanya Samriddhi Account can be opened by parents for their girl child

The account can be opened at Post office or at designated bank branches.

Interest rate is 9.1% for current financial year. Interest rate for each year will be declared every year (like PPF)  

The age of girl at the time of opening account should not be more than 10 years. Money must be deposited for 14 years. The maturity of the account is 21 years from the date of opening of account.

Minimum deposit amount is Rs 1000 and maximum is Rs 1.50 lakhs per year

You can also get benefit of 80C deduction for your investment
Read full details about Sukanya Samriddhi Yojna Account Scheme at the post below:
https://wealth18.com/sukanya-samriddhi-account-details-review/
Maturity Value for Sukanya Samriddhi Scheme – calculator
I received multiple queries from members about maturity value for Sukanya Samriddhi Yojna after 21 years. Below, I have given an indication of the maturity value for Sukanya Samriddhi Account .
Please note that the maturity value is the calculation based on current 9.1% interest rate. This rate can be changed by government every year which will impact the maturity rate.
Assumptions:
Investment of Rs 1.50 lakh each year (on 1st April) in case on annual contribution.  Rs 12500 every month on 1st in case of monthly contribution

Interest rate is 9.1%

Investment for 14 years and no withdrawals till 21 years
Maturity value in case of Yearly contribution for Sukanya Samriddhi Scheme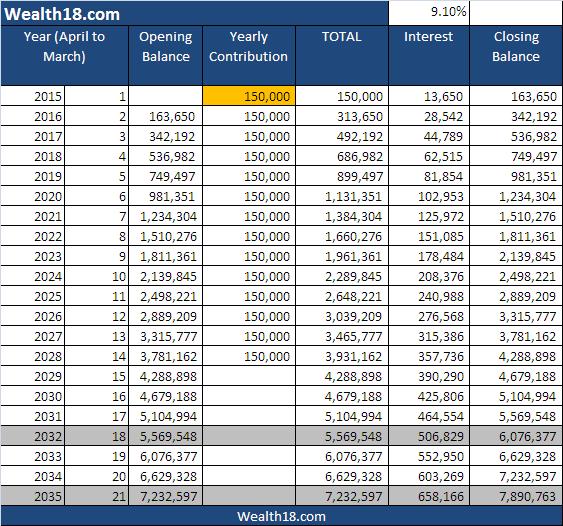 Maturity value in case of Monthly contribution for Sukanya Samriddhi Yojna

Maturity Calculator –  Also download below EXCEL based Calculator to calculate the maturity value of Sukanya Samriddhi Account
Sukanya Samriddhi Account- Maturity calculator- EXCEL Sheet
Also, Read other Articles related to Sukanya Samriddhi Account below:
Sukanya Samriddhi Yojna – List of 28 banks to open this Account
Sukanya Samriddhi Account – Features & Review
Sukanya Samriddhi Account –  Maturity value amount & calculator
Sukanya Samriddhi Account – Application Form download for Bank or Post office