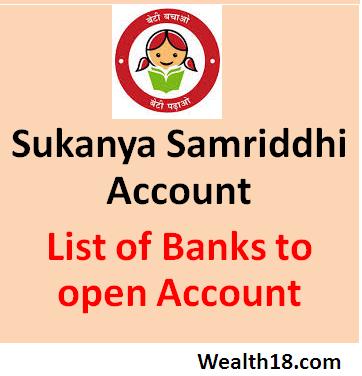 In this post, I am providing the list of banks where you can open the Sukanya Samriddhi account.  In March 2015, RBI sent notification to 28 banks regaring opening account under Sukanya Samriddhi Scheme Yojna.
In my previous post, I explained the features of Sukanya Samriddhi Account. Read full details and review of this scheme
Also see Maturity value amount & calculator – See details
Below is the List of Banks  where you can open the Sukanya Samriddhi account
State Bank of India

Axis Bank Ltd.

ICICI Bank Ltd.

IDBI Bank Ltd.

Allahabad Bank

Bank of Baroda

Canara Bank

Punjab National Bank

State Bank of Patiala

State Bank of Bikaner & Jaipur

State Bank of Travancore

State Bank of Hyderabad

State Bank of Mysore

Andhra Bank

Bank of India

Punjab & Sind Bank

Bank of Maharashtra

Central Bank of India

Corporation Bank

Dena Bank

Indian Bank

Indian Overseas Bank

Syndicate Bank

UCO Bank

Oriental Bank of Commerce

Union Bank of India

United Bank of India

Vijaya Bank
RBI has also suggested this specimen application form  for account opening. Also a format of Passbook is provided.

Reference   circular  RBI/2014-15/494
IDMD(DGBA).CDD.No.4052/15.02.006/2014-15
datef 11-March-2015
Also, Read other Articles related to Sukanya Samriddhi Account below:
Sukanya Samriddhi Yojna – List of 28 banks to open this Account
Sukanya Samriddhi Account – Features & Review
Sukanya Samriddhi Account –  Maturity value amount & calculator
Sukanya Samriddhi Account – Application Form download for Bank or Post office