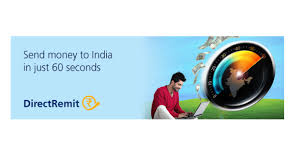 UAE-based bank 'Emirates NBD' has launched 'DirectRemit' service which would enable customers to speedily transfer money to other banks in India.
A first-of-its-kind remittance service, it would also allow Non-Resident Indian (NRI) customers to remit money to any HDFC Bank Account in India in just 60 seconds.
Money Transfer time
Emirates NBD said with the launch of this service, customers can transfer money to other banks in India with their remittance being processed within an hour.
Delivery to HDFC Bank is immediate, Mon-Sat 7am-8pm UAE time.

All other bank credits will take 60 minutes, Mon-Fri 7:30am-4:30pm UAE time, Sat 7:30am-10:30pm UAE time.
Charges
Transfers to HDFC Bank and ICICI Bank accounts in India –  FREE
Transfers to all other Indian banks – AED 10
According to World Bank figures, India is one of the highest remittance receiving countries in the world, estimated at USD 70 billion in 2013 alone.
The launch of 'DirectRemit' is seen as a major enabler of Emirates NBD's strategy to appeal to bank's NRI customers.
As part of the 'DirectRemit' offering, customers can open joint accounts, invest in wealth management products, pay their utility bills, insurance premiums, and loan payments, among others, with an account with Emirates NBD's partner banks in India.
https://www.emiratesnbd.com/en/index.cfm/priority-banking/whats-new/direct-remittance/
Exchange rates
I could not find the details of exchange rates offered on their website. Members based in UAE may be of help in finding out exchage rate offered as compared to other available options.
Read my post – Best Options to send money to India & Best Exchange Rates