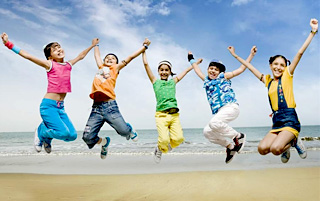 No more piggy banks for little ones because now children above the age of 10 can open their own bank accounts and withdraw, transfer and deposit money all by themselves.
Children older than 10 years will no longer need the help of their parents or guardians to open and operate a savings bank account.
To boost financial inclusion, the Reserve Bank of India (RBI) said that banks were at liberty to allow minors above 10 years to independently open and operate savings bank accounts. As of now, banks allow minors to operate bank accounts only along with a parent or a guardian. All children and teenagers below the age of 18 are considered minors under current rules.
RBI also allowed banks to offer additional facilities like internet banking, ATM, debit card and chequebook to a minor. However, the central bank said that such facilities should be within the overall norms that banks will not allow a minor's account to be overdrawn and that these accounts should always remain in credit.
However, RBI has given the leeway to banks
to fix the minimum age at which they will allow minors to operate savings bank accounts independently.

to fix a maximum limit on money such minors can have at their disposal through such account.

decide on what kind of documents will be needed to open accounts by minors.

Products currently available
Currently, there are several products available that let the minors open and operate saving bank accounts.
HDFC Bank  –   Minors can open and operate a savings bank account independently / jointly if they are above 12 years.
ICICI Bank  –   'ICICI Bank Young Stars Account' for children in the age group of one day – 18 years. As per rules, it is essential for the parent/guardian to also hold an account with the bank. However, it authorises only the guardian / parent to open and operate the account at all times.
Kotak Mahindra Bank –   offers 'Kotak Junior Account', which is NMC (non-maintenance charges) waived account with personalised debit cards for minors that are issued only on gurdian's request to children above the age of 10 years with a withdrawal limit of Rs 5,000.
ING Vysya Bank –  has ING Zing savings account for children, with debit card and cheque book facilities.
SBI – Will launch shortly