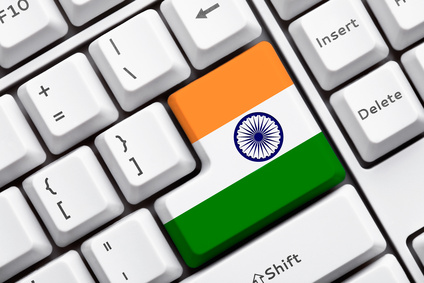 Over the last 1 year, Indian Rupee has  depreciated against major currencies like USD, GBP etc  the exchange rate is quite good if you want to convert foreign currency into INR and send money to India for Savings or Investment.
So, What is the best way to transfer your money to India and get best exchange rates for your hard-earned money ?
In the table below, I have included the Exchange rates indicated for GBP = INR  by various money transfer services: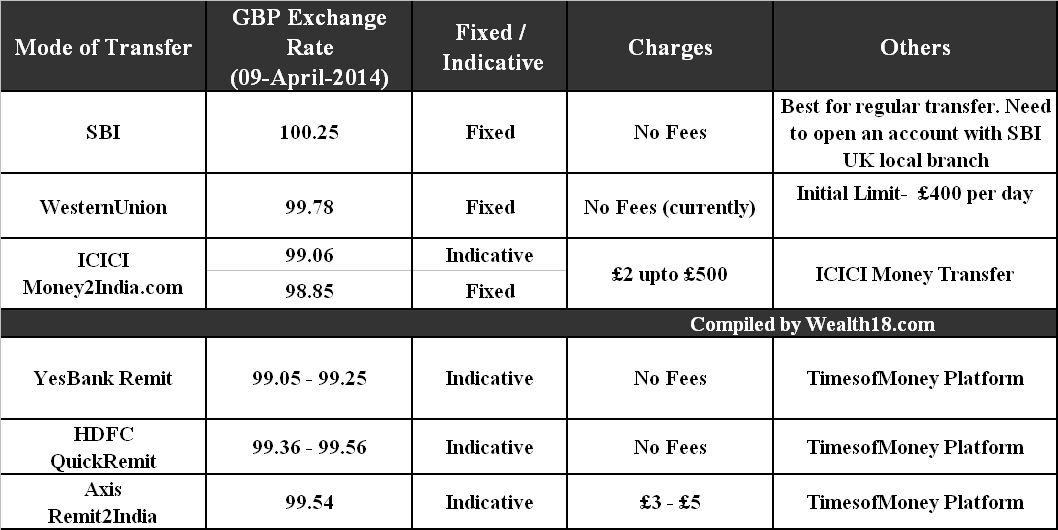 Various Options to transfer money to India from UK, USA, Canada, Singapore, Australia, UAE, Europe & other countries
1. Transfer through Indian Banks having Branches abroad
Normally, Overseas branches of Indian PSU banks give better exchange rates for transferring money to India.
In my experience, SBI in UK offers the best exchange rate for transferring money from UK to India. For regular transfer, you just need to open an account with them.You can then online transfer money from SBI UK Account to any India Account (SBI / non-SBI). It just takes 1 working day to get the credit in India Bank Account.
As on 09-April-2014, The exchange rates offered were
GBP –  100.25

USD  –  59.70


EUR – 82.50
Visit SBI website for more details –   https://www.sbiuk.com/
You can check other options like – PNB & Bank of Baroda
2. Western Union
Western Union also offer good rates for Money transfer to India. Charges £2.90 per transfer (Currently NIL)

Youc an now also transfer money to any bank account in India through Westrn Union

https://www.westernunion.co.uk/gb/Home.page
Confirmed Rate 99.78
3. Transfer money to India using Money Transfer websites
Many Indian banks offer money transfer services through various websites. But the main drawback is that they show only indicative price and you are not very sure about what final price they will take when transferring money.
a)  Money2India.com     – ICICI Bank Money Transfer Service
Shows only indicative rate on the website. If you want the fixed rate, it is not competitive.
For e.g Indicative rate is showing as 99.06  , but if you need confirmed rate, it is 98.85
Charge – GBP 2  upto GBP 500, No Charge above GBP 500
https://m2inet.icicibank.co.in/m2iNet/exchangeRate.misc
b)  Yes Bank Remit (powered by TimesofMoney)
YesBank uses TimesofMoney platform for offering money transfer service. No Remittance fees.
Indicative Rates –  Rate 99.05 – 99.25

https://www.timesofmoney.com/remittance/jsp/yesremit_exchangeRate.jsp?partnerId=YBL&opMode=INTL&uiId=YBL
https://www.yesbank.in/index.jsp?navigationUrl=%2FYES+Bank+Repository%2Fen%2FBranch+Banking%2FGlobal+Indian+Banking+-+NRI%2FYES+Remit+%E2%80%93+Online+Money+Transfer
c) HDFC QuickRemit (powered by TimesofMoney)
https://www.hdfcbank.com/nri_banking/money_transfer/UK/QuickRemit_UK.htm
Indicative rates – 99.36 – 99.56   No Transaction fees

d) Remit2India / Axis Bank & TimeofMoney
Indicative rates – 99.54    £3- £5 Transaction fees

4. Currency Trading Websites
There are many currency trading websites which also allows money transfer, but I haven't used them.  There rates are not very competitive as compared to options mentioned above.
https://www.torfx.com/exchange-rates/indian-rupee-exchange-rates.htm
https://www.fxcompared.com/Content/money-transfer-from-UK-India-below-3000-amount-1000
https://www.ukforex.co.uk/currency-converter/GBP/INR/1000/false
https://www.xe.com/currencyconverter/convert/?Amount=1&From=GBP&To=INR
Please note that the rates mentioned on these websites are mid-market indicative rate & actual rates will be quite different.
5. Summary
Utilitise this opportunity of lifetime INR rates to send money to India.
Use the service of Indian Bank accounts or money transfer service with no or minimal fees.
6. Feedback
Please share – how do you currently transfer money to India. Please share your feedback & experience with various money transfer services.
Please share your icici money2india reviews, remit2india reviews,  hdfc quick remit reviews and other money transfer reviews.