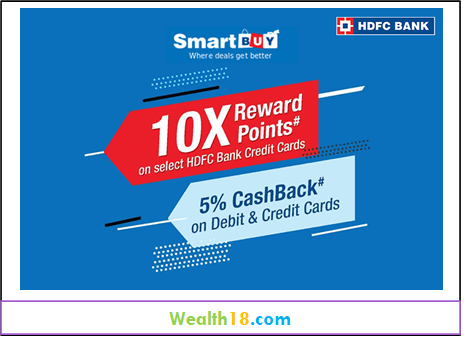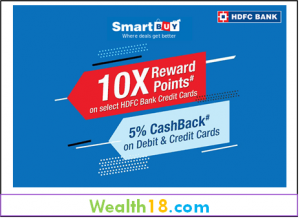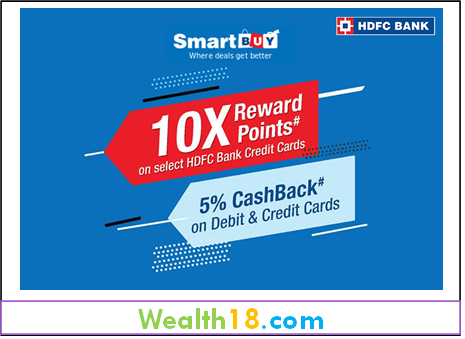 HDFC credit card 10x rewards program is one of the best credit card rewards program. (See details – HDFC 10x program)
As part of this rewards program, you can almost 33% worth of reward points. You get these accelerated reward points for spending through HDFC SmartBuy Portal on Flights and Hotel (and get 10x rewards). 
But now, you can also get 10x rewards for buying shopping vouchers for other merchants (e.g travel, restaurants, groceries, electronics etc.)  As a result, you will effectively more than 30% worth of reward value (i.e. more than 30% cashback). You can buy these vouchers through HDFC Smartbuy portal.
This is applicable for specific HDFC Credit Cards – Infinia credit card and Diners Black credit card. For other cards, you will get 5% cashback instead of 10x reward which is still very good as compared to other credit cards.
See below the list of merchants for which you can buy vouchers and then use online / offline. 
Category: Travel
| | | | | |
| --- | --- | --- | --- | --- |
| Merchant | Upfront | Points worth | Voucher | Net Cost to you |
| Yatra | 10% | 30% | 1000 | 600 |
| Taj Hotels | 2% | 30% | 1000 | 680 |
| Ola | | 30% | 1000 | 700 |
| MMT Hotel | | 30% | 1000 | 700 |
| MMT Holiday | | 32.50% | 2000 | 1350 |
| MMT Holiday | 2% | 32.50% | 2000 | 1310 |
| I Can stay | | 32.50% | 2000 | 1350 |
| Accor Plus | | 33% | 15222 | 10172 |
Category: Restaurants
| | | | | |
| --- | --- | --- | --- | --- |
| Merchant | Upfront | Points worth | Voucher | Net Cost to you |
| TGIF | 20% | 25% | 1000 | 550 |
| Swiggy | 2% | 30% | 1000 | 680 |
| Sweet Bengal | | 30% | 1000 | 700 |
| SIGREE  | | 30% | 1000 | 700 |
| Pizza Hut | 5% | 30% | 1000 | 650 |
| Oh! Calcutta | | 30% | 1000 | 700 |
| Mainland China | | 30% | 1000 | 700 |
| Machaan  | | 30% | 1000 | 700 |
| KFC  | | 30% | 1000 | 700 |
| Costa Coffee | | 30% | 1000 | 700 |
| Chaayos  | | 30% | 1000 | 700 |
| Cafe Coffee Day | | 30% | 1000 | 700 |
| Beer Cafe | 20% | 25% | 1000 | 550 |
| Baskin Robbins | | 30% | 1000 | 700 |
Category: Groceries
| | | | | |
| --- | --- | --- | --- | --- |
| Merchant | Upfront | Points worth | Voucher | Net Cost to you |
| Big Bazaar | | 32.50% | | |
| BigBasket | | 30% | | |
| Grofers  | | 30% | | |
| More  | | 30% | | |
| Spencer's Retail | | 30% | | |
| Home Centre | 2.50% | 32.50% | | |
| Home Centre Online | 2.50% | 30% | | |
| Hometown  | 5% | 30% | | |
Category: Accessories
| | | | | |
| --- | --- | --- | --- | --- |
| Merchant | Upfront | Points worth | Voucher | Net Cost to you |
| Aldo | | 30% | | |
| Allen Solly | | 30% | | |
| Amazon | | 30% | | |
| Armani Exchange | | 30% | | |
| Arrow | 15% | 20% | 500 | 325 |
| Aurelia  | | 30% | | |
| Bata  | | 30% | | |
| Bath & Body Works | | 30% | | |
| Benetton  | | 30% | | |
| BEVERLY HILLS | | 30% | | |
| BIBA  | | 30% | | |
| Brooks Brothers | | 30% | | |
| CALL IT SPRING | | 30% | | |
| Celio  | | 30% | | |
| Central  | | 30% | | |
| Charles & Keith | 12.50% | 25% | 1000 | 625 |
| Dune-Luxe  | | 30% | | |
| FabIndia  | 5% | 30% | 1000 | 650 |
| Fastrack  | | 30% | | |
| FBB  | 2.50% | 30% | 500 | 338 |
| Flipkart | | 30% | | |
| Flying Machine | 15% | 20% | 500 | 325 |
| G-Star RAW- Luxe | | 30% | | |
| Gas – Luxe  | | 30% | | |
| Gini & Jony | | 30% | | |
| Hamleys  Luxe | | 30% | | |
| Hidesign  | | 30% | | |
| Hush Puppies | | 30% | | |
| INGLOT  | | 30% | | |
| Jack & Jones | | 30% | | |
| Jockey  | | 30% | | |
| La Senza | | 30% | | |
| Levis  | | 30% | | |
| Lifestyle  | | 30% | | |
| Lifestyle Online | | 30% | | |
| Louis Philippe | | 30% | | |
| Luxe Gift Card | | 30% | | |
| Max  | | 30% | | |
| Max Online | | 30% | | |
| Mother Care | | 30% | | |
| Myntra  | | 30% | | |
| ONLY  | | 30% | | |
| Pantaloons  | 7.50% | 30% | 1000 | 625 |
| Peter England | | 30% | | |
| Planet fashion | 10% | 30% | 1000 | 600 |
| Puma  | | 30% | | |
| Relaxo  | | 30% | | |
| Replay- Luxe | | 30% | | |
| Satya Paul- Luxe | | 30% | | |
| Scotch & Soda- Luxe | | 30% | | |
| Shoppers Stop | | 30% | | |
| Skechers  | 5% | 30% | 1000 | 650 |
| Steve Madden – Luxe | | 30% | | |
| Superdry – Luxe | | 30% | | |
| Taneira | 4% | 30% | 1000 | 660 |
| The Man Company | 5% | 30% | 1000 | 650 |
| The Raymond Shop | | 30% | | |
| Titan  | | 30% | | |
| Titan Eye Plus  | | 30% | | |
| US Polo | 15% | 20% | 500 | 325 |
| Van Heusen | | 30% | | |
| Veromoda  | | 30% | | |
| Voylla  | | 30% | | |
| W Gift | | 30% | | |
| Westside  | | 32.50% | | |
| William Penn | 5% | 30% | | |
| Woodland  | | | | |
| | | | | |
| Bobbi Brown | | 32.50% | | |
| Kama Ayurveda | | 32.50% | | |
| Kiehl's  | 5% | 30% | | |
| MAC  | | 32.50% | | |
| Plum  | | 32.50% | | |
| The Body Shop  | 5% | 30% | | |
| The Phy Life | | 32.50% | | |
Category: Electronics
| | | | | |
| --- | --- | --- | --- | --- |
| Merchant | Upfront | Points worth | Voucher | Net Cost to you |
| BlauPunkt  | 10% | 30% | | |
| Croma  | 33% | | | |
| Mobile Recharge | 2.50% | 28.50% | | |
| Skullcandy  | | 33% | | |
| Thomson  | | 33% | | |
| Vijay Sales | | 33% | | |
Category: Entertainment/ Others
| | | | | |
| --- | --- | --- | --- | --- |
| Merchant | Upfront | Points worth | Voucher | Net Cost to you |
| AD magazine | 25% | 22.50% | 1100 | 575 |
| BookMyShow  | 55 | 30% | 1000 | 650 |
| Business Today | 25% | 25% | 2600 | 1300 |
| CNT  | 30% | | 900 | 600 |
| Hamleys  | 5% | 30% | | |
| Harper's Bazaar India | 25% | 25% | | |
| Hindustan Times | 35% | 20% | | |
| Disney+Hotstar | | 30% | | |
| Live Mint | 40% | 18.50% | | |
| PVR  | 20% | 25% | 1000 | 550 |
| Reader's Digest | 25% | 30% | | |
| ShemarooMe | 30% | 20% | | |
| SonyLIV | 10% | 25% | | |
| Vogue  | 25% | 25% | | |
| Zee5  | 50% | 15% | | |
| | | | | |
| Archies  | 10% | 30% | | |
| Kama Ayurveda | 12.50% | 25% | | |
| Seniority  | 10% | 30% | | |
| Points for Good | | 30% | | |
| Prestige  | 7.50% | 30% | | |
| Plum  | 30% | 22.50% | | |