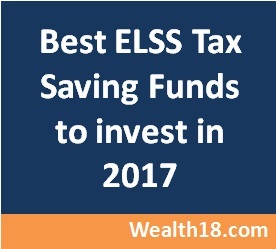 Equity Linked Savings Scheme (ELSS) Mutual Funds are one of the popular 80C tax saving options for savvy investors.

Quick Overview of ELSS Funds
ELSS is a diversified equity mutual fund which has a majority of the corpus invested in equities.
There is a

lock in period of 3 years

from the date of investment. You can remain invested even after 3 years and can withdraw anytime after that lockin.
Returns are based on returns from Equity Markets.  Returns from ELSS Schemes are tax free.

Based on previous returns, some of the funds has grown 3 times in 5 years.



There is no limit of investment in ELSS Funds, but you can claim

Tax deduction upto Rs 1.50 Lakh

under Section 80C of Income Tax Act.
It is always better to invest
via SIP mode rather than lumpsum (for cost averaging)

in GROWTH Option  (for wealth accumulation)

in DIRECT Plan ( to save costs & higher returns)
Read – Other Tax Saving Options u/s 80C
Top performing ELSS Mutual Funds – which you can consider investing in 2018
 

Annualised Return

 

1 Yr
2 Yr
3 Yr
5 Yr
ELSS tax Saving Funds
CAGR %   returns

 

 

 

 

 

Axis Long Term Equity – Direct

40.5

24.5

14

25.4

Reliance Tax Saver (ELSS) – Direct

39.7

31.1

14

24.1

ABSL Tax Relief 96 – Direct

39.8

27.2

16.2

23

Tata India Tax Savings Fund – Direct (G)

40

29.1

18.9

 

IDFC Tax Adv. (ELSS) -Direct (G)

48.8

32.2

18.7

22.8

L&T Tax Advantage -Direct (G)

40.7

32

17.2

20.7

DSP-BRTax Saver Fund -Direct (G)

32.3

29.2

16.4

21.5

 

 

 

 

 

Wealth18.com  updated on 21 Jan 2018

 

 

 

 
Please note that above returns are annualised returns / CAGR.  For clarification,
mutual fund investment will double in 5 years, if its CAGR return is 15%.

mutual fund investment will become 3 times in 5 years, if its CAGR return is 24.5%.
Also read – Best Equity Funds (Large, Midcap fund, Diversified) to invest in 2018
Read – From 1st Feb 2017, New Central KYC process must for new Mutual Fund Investors.
________________________________________
If you have any queries related to ELSS Funds, or any other personal finance, feel free to use the comment box below.
If you have any queries related to this article or any other personal finance query ( Investment, Taxation etc), please comment below
http://wealth18.com/

3,471 views