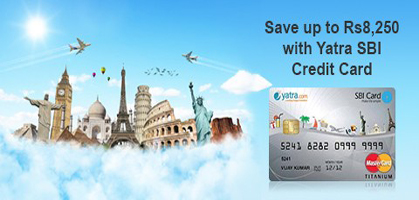 Yatra SBI  credit card is credit card offered by SBI that offers extra benefits on travel purchases (through Yatra.com)
Yatra SBI Credit card Benefits
Welcome Benefit
Get Yatra.com vouchers worth Rs. 8,250 on joining.  Welcome vouchers will be dispatched on payment of 1st year annual fee  (

2 vouchers worth Rs. 500 each for domestic travel
2 vouchers worth Rs. 1,000 each for international travel
1 voucher worth Rs. 750 for hotel bookings
1 voucher worth Rs. 1,500 for domestic holidays
1 voucher worth Rs. 3,000 for international holidays
Travel benefits
Rs. 1,000 off on domestic flight bookings. Min. trxn of Rs. 5,000

Rs. 4,000 off on international flight bookings. Min. trxn of Rs. 40,000

20% off on domestic hotels Min. trxn of Rs. 3,000. Max. discount of Rs. 2,000

To avail travel benefits, use promo code Travel at the time of booking. Promo code can be applied max. 6 times in a calendar year

Complimentary Air Accident cover of Rs. 50 lacs

Valid for primary cardholder, when ticket is booked via Yatra.com using the Yatra SBI Card
Fuel Surcharge
Enjoy freedom from paying 1% fuel surcharge across all petrol pumps in India.Max. surcharge waiver of Rs. 100 monthly
Fuel Transactions between Rs. 500 and Rs. 3,000 are eligible for fuel surcharge waiver. GST extra wherever applicable
Rewards Collection
6 Reward Points on every Rs. 100 spend on Departmental Stores, Grocery, Dining, Movies, Entertainment and International spends (1.5% worth of points)
Get 1 Reward Point for every Rs. 100 spent on non-fuel retail purchases. (0.25% worth)
Rewards Redemption
SBI point value is approx Rs 0.25  (as you get redeem 4 points for a Rs 1)

SBI points value –  Based on the earned points and redemption value  – you will get a cashback of upto 0.25%  on general purchases and 1.5% on specialist spend. Main benefit is on travel spend on Yatra.
Yatra SBI Credit Card Eligibility :   Applicant should be 21+ with stable monthly income. 
Fees
Annual Fees : Rs 499  (welcome gift worth Rs 8250)

Renewal fee:  Rs 499  (waived if annual spend is Rs 1 lakh
How to Apply – See the direct link at SBI website
Summary
This is a good credit card  if you spend money on travel (air tickets, hotels etc). It offers vouchers and discounts for travel spend on Yatra.
There are many credit cards offered by SBI  with different features including discount on movies, groceries, dining as well as air travel and hotels, free international and domestic lounge access. Some of the cards offers excellent redemption rewards. See list of all credit cards offered by SBI and check which one you should go for