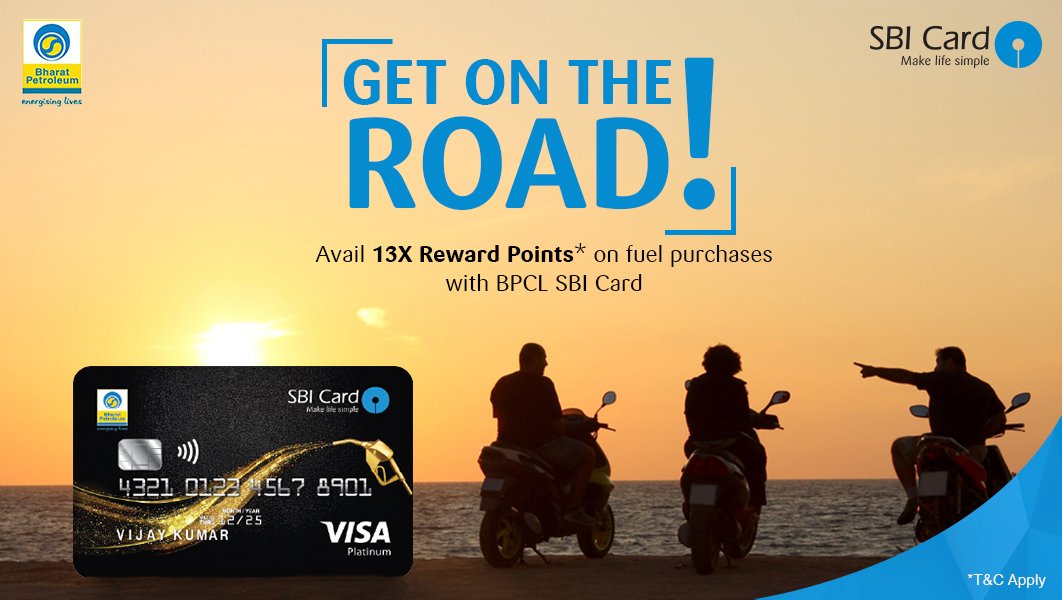 BPCL SBI  credit card is credit card offered by SBI that offers extra benefits on fuel purchases.
BPCL SBI Credit card Benefits
Welcome Benefit
Apply online and get BookmyShow voucher worth Rs 250 

Get 2,000 Activation Bonus Reward Points worth Rs. 500 on payment of joining fee. Reward Points will be credited after 20 days of the payment of joining fee and the same can be redeemed instantly against fuel purchase at BPCL outlets, BPCL Vouchers or at Shop n Smile rewards catalogue
Fuel Surcharge
4.25 % Valueback (13X Reward Points equivalent to 3.25% + 1% Fuel surcharge waiver on every transaction of upto Rs. 4,000), at any BPCL petrol pump across the country.
Maximum surcharge waiver of Rs. 100 in a month, which is equivalent to an Annual Savings of Rs.1200.
Maximum limit in a month Rs. 10,000
Rewards Collection
4.25% Valueback ~ 13X Reward Points on fuel purchases at BPCL petrol pumps. Maximum 1300 Reward Points per billing cycle




3.25% + 1% Fuel surcharge waiver on every transaction upto Rs. 4,000




Additional 0.75% Valueback as per mandate from the Government of India

5X Reward Points on every Rs. 100 spent at Groceries, Departmental stores, Movies & Dining and on standing instructions of Utility Bills payments. (1.25 % worth)
Get 1 Reward Point for every Rs. 100 spent on non-fuel retail purchases. (0.25% worth)
Rewards Redemption
SBI point value is approx Rs 0.25  (as you get redeem 4 points for a Rs 1)

SBI points value –  Based on the earned points and redemption value  – you will get a cashback of upto 0.25%  on general purchases and 1.25% on specialist spend. Main benefit is on fuel spend
BPCL SBI Credit Card Eligibility :   Applicant should be 21+ with stable monthly income. 
Fees
Annual Fees : Rs 499  (welcome gift worth Rs 500)

Renewal fee:  Rs 499
How to Apply – See the direct link at SBI website
Summary
This is a good credit card  if you have monthly fuel spends as it offers upto 4.75% worth of points on fuel spends.Even for other shopping, it offers upto 1.25% worth of points.
There are many credit cards offered by SBI  with different features including discount on movies, groceries, dining as well as air travel and hotels, free international and domestic lounge access. Some of the cards offers excellent redemption rewards. See list of all credit cards offered by SBI and check which one you should go for