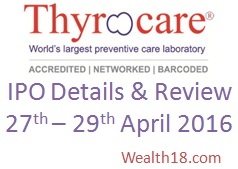 Thyrocare Technologies, a pan – India diagnostics chain with focus on preventive and wellness health offerings is set to tap the markets with its initial public offer (IPO). 
Update: 30-April-2016
IPO Subscription:  
Qualified institutional buyers (QIBs) was oversubscribed 73.18 times,

Non-institutional investors received 225.30 times subscription.

Retail investors portion was also oversubscribed 8.55 times.
IPO Allotment Status:  Not yet alloted
IPO Listing Date:  Not yet decided.
Issue Details
IPO Open : 27th April 2016 to 29th April 2016

Issue Price band: of Rs 420 – 446 per share

Issue Size – Rs 451 – 479 crore

Market lot : 33 shares and in multiples of 33 shares
Background: TTL is one of the leading pan-India diagnostics chain with focus on preventive and wellness health offerings under the Aarogyam brand.
The company's geographic presence is in 483 cities across 27 states and 1 union territory through 1,122 authorised service providers (ASPs). It has a fully-automated central processing laboratory (CPL) in Navi Mumbai. It has five regional processing laboratories (RPL) namely in New Delhi, Coimbatore, Hyderabad, Kolkata and Bhopal. It plans to set up 25 new regional processing laboratories over next three year.
Thyrocare follows a leasing model for acquiring diagnostic equipment, which requires less capital expenditure and helps faster network expansion. The company has a hub and spoke business model, where sample procurement is done through ASPs under franchisee agreements. ASPs collect samples from local hospitals, laboratories, pathologists, referring doctors, walk-in customers and home collection services.
Promoters holdings: The IPO is an offer for sale (OFS) of nearly 1.07 crore equity shares from the company's existing shareholders including promoters. The promoter holding in the company will fall from 77%  to 64% post the issue. Private equity investor CX Partners (through its subsidiary Agalia), A Velumani HUF, A Sundararaju HUF and Anand Velumani are shareholders who will offload part of their stakes.
Objective of the issue: The entire IPO consists of an offer for sale and the company will not receive any funds raised from the issue.
Financials:
Thyrocare reported a net profit of Rs 48 crore on revenues of Rs 180 crore in FY15.

Its revenue and net profit have registered a CAGR of 18% and 12% respectively over three years ending March 31, 2015. It has maintained a stable operating margin of around 42% over the same period.

Due to a low capex business model, the company generates healthy cash flows and is currently debt free.

As of December 2015 it had cash and cash equivalents of Rs 62 crore which would support future growth.

Further, the company had RoE of around 19 % and RoIC of nearly 42 per cent in FY15.
Industry growth:
As per a report from CRISIL research the overall diagnostic industry in India is estimated to be Rs 37,700 crore in FY15 and is expected to increase at a CAGR of 18 % to Rs 61,600 crore by FY18E.

Currently organised players with a pan India presence have a market share of roughly 35-40%.

According to Centrum Wealth Research, there is tremendous opportunity for organised players. TTL with its proven track record and expansion plan of opening 20 new RPL's is likely to benefit from this opportunity.
Anchor Investors:  The company raised Rs 144 crore by allotting 3.22 million shares to anchor investors that included DSP Blackrock, HDFC MF and Birla Sunlife MF. The shares were allotted at Rs 446 apiece.
Risks: 
Thyrocare competes with diagnostics chains such as the recently listed Dr Lal PathLabs. That apart, SRL Diagnostics, Metropolis Healthcare and Apollo Clinic are some of its other competitors.

Higher competition, dependence on authorised service providers for sample collection, future regulatory issues are few risks in the business of Thyrocare.

Competition from the unorganised sector is one of the key risks for Thyrocare Technologies. Also, high dependence on few specific tests (Thyroid – 17 per cent of revenue), change in testing technology and low-cost services by social organisation are other risks for Thyrocare Technologies.
Valuation as compared to its peers:
At a price band of Rs 420 – 446, the issue is priced at 47.7- 50.7x price-earnings (PE) ratio for FY2015 consolidated earnings per share (EPS) of Rs 8.8 and 30 – 32x EV/EBIDTA for FY2015. The valuations at the offer price are similar to that offered in the public issue of recently listed comparable players like Dr Lal Pathlabs. After listing, the premium valuations of Dr Lal Pathlabs have expanded further due to its strong track record, healthy return ratios and high free cash flows despite the aggressive expansion and exponential growth in the business.
At the upper price band of Rs 446, Thyrocare is valued at around 27 times its FY18 estimated earnings per share. This is at a discount to its listed peer Dr Lal Pathlabs, whose shares trade at a price earnings multiple of around 43 times its FY18 estimated earnings.
Should you invest:
Motilal Oswal – Subscribe

IIFL – Subscribe

Centrum Wealth – Subscribe

Nirmal Bang – Subscribe

ICICI Securities – Subscribe

Angel Broking – Neutral
Disclaimer:  The articles or analysis on this website should not be constituted as Investment advice. Please consult your financial advisor before making any investments.