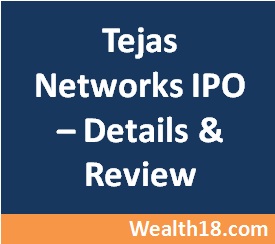 Tejas Networks IPO Allotment Status Check Online –  You can check the allotment status at the Registrar website link below using your PAN number 
You can also send your PAN by comment below and we can check the status for you. As the retail quote was oversubscribed, you may get less or no allotment.
[xyz-ihs snippet="ad1″]
Registrar Website link to check allotment
https://www.linkintime.co.in/PublicIssues/
Update 15th June : Day 2:  IPO is subscribed 38% on Day 2 – Retail quota is already over-subscribed (1.1 times).
Tejas Networks Limited is an India-based optical and data networking products company.
Issue Details of  Tejas Network IPO: 
IPO Open: 14th June to 16th June 2017

Issue Price band:  RS 250 – 257

Issue Size:  Rs 317-326 crores

Market lot: 55

Minimum Investment: Rs 14135 (55 shares @257)

Book Running Lead Managers: Axis Capital, Citigroup

Registrar: Link Intime

Listing: BSE, NSE
 IPO Issue Allocation:
Qualified institutional buyers (QIBs) – 75% of the offer.

Non-institutional bidders –  15% of the offer.

Retail individual bidders  – 10% of the offer.
 Background:
Tejas Networks Limited is an India-based optical and data networking products company with customers in over 60 countries. It designs, develops and sells high-performance and cost-competitive products to telecommunications service providers, internet service providers, utility companies, defence companies and government entities (collectively, "Communication Service Providers"). Its products are used to build high-speed communication networks that carry voice, data and video traffic from fixed line, mobile and broadband networks over optical fibre.
The company has invested heavily in research and development in order to grow through multiple technology cycles and are well-positioned to capitalize on the expected growth in optical capital expenditure globally. Driven by rising smartphone penetration and a massive increase in data traffic, global optical capital expenditure is expected to increase from US$14.6 billion in 2014 to US$17.9 billion in 2020. (Source: Ovum Optical Networks Spreadsheet: 2015-2020, published in December 2015) Further, optical equipment expenditure in India is expected to grow from US$391 million in 2014 to US$869 million by 2020, at a CAGR of 14.2% (Source: Ovum Optical Network Forecast Spreadsheet 2015-2020) For the year ended March 31, 2016, Tejas Networks was the second largest optical networking products company in terms of market share in India, with a market share of 15% in the overall optical networking market.(Source: Ovum Market Share Spreadsheet: 1Q16 ON Sub regional EMEA and AP, published in June 2016).
It is the only India-based optical transport systems company that is TL9000 certified and its products have delivered a field uptime exceeding 99.999% since 2008. It is ranked as the sixth largest supplier in the Global Optical aggregation segment. (Source: Market Share Spreadsheet: 2Q16 ON Global, published in August 2016 by Ovum).
The company intends to increase its international sales and market share by leveraging the efforts of the Telecom Export Promotion Council ("TEPC") and by becoming a part of large telecom export projects that the Government of India may secure using government-to-government line of credit and sovereign loans from EXIM Bank of India. Its Chief Executive Officer is currently Co- Chairman of TEPC.
 Promoters & Promoter Group holdings:
Tejas Networks is a professionally managed company and does not have an identifiable promoter either in terms of the SEBI ICDR Regulations or the Companies Act, 2013. Consequently, it has no 'promoter group' in terms of the SEBI ICDR Regulations.
The firm was co-founded in 2000 by Deshpande, a brother-in-law of Infosys Ltd co-founder NR Narayana Murthy.
The list of top 10 shareholders of the company and the number of equity shares held by them is as below:
Objective of the issue:  
The Issue comprises of a Fresh Issue by the company and an Offer for Sale by the selling shareholders.
The Offer for Sale : The company will not receive any proceeds from the Offer for Sale.

The Fresh Issue:  The net proceeds from the fresh issue will be utilised towards the following objects:

Funding capital expenditure towards payment of salaries and wages of its research and development team;

Funding capital expenditure requirements; and

General corporate purposes.
Anchor Investors: Tejas Networks on Tuesday raised nearly Rs. 350 crore from 17 anchor investors at Rs. 257 per share. Some of the anchor investors include
Abu Dhabi Investment Authority,

Eastbridge Capital Master Fund,

Amansa Holdings,

Reliance CapitalB Trustee Company,

Amundi Funds Equity India and

Columbia Emerging Markets Fund.

PremjiInvest, the family investment arm of Wipro Ltd chairman Azim Premji,




US asset management company Columbia Threadneedle Investments,

Scottish asset manager Standard Life Investment Management Co,

BNP Paribas
The anchor investors included Indian insurers such as SBI Life Insurance Co, Reliance Nippon Life Insurance Co. and Exide Life Insurance Co. Indian asset managers IDFC Mutual Fund, Kotak Mutual Fund and Reliance Capital Trustee Co also bought Tejas' shares.
Financials:
Valuation as compared to its peers: There is no comparable listed peer.
Brokerage Recommendations:  Angel Broking has a "subscribe" rating on the issue. "The company's debt free balance sheet post IPO coupled with the government's push for digital India would support the growth momentum,"
| | |
| --- | --- |
| Angel Broking | Subscribe |
| IDBI Capital | Subscribe |
| GEPL Capital | Subscribe |
|  S P Tulsian | AVOID |
Should you invest:    
The issue looks quite expensive as at price of Rs 257, the PE ratio will come to 27 (FY17EPS). Also  the profits are quite fluctuating over last 5 years.
Some analysts think that it is good investment option as Indian market is "data" hungry and capex plan for telecom companies. But I think that telecom companies are going through the stress situation with low ARPU as well as Jio's  entry etc.
Investor should be cautious while investing in this IPO. You can consider avoiding this IPO.
[xyz-ihs snippet="ad1″]
Disclaimer:  The articles or analysis on this website should not be constituted as Investment advice. Please consult your financial advisor before making any investments.