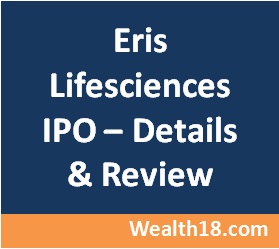 Eris Lifesciences IPO Allotment Status Check Online –  You can check the allotment status at the Registrar website link below using your PAN number 
You can also send your PAN by comment below and we can check the status for you. As the retail quote was oversubscribed, you may get less or no allotment.
[xyz-ihs snippet="ad1″]
Registrar Website link to check allotment
https://www.linkintime.co.in/PublicIssues/
Day 3:  IPO over-subscribed 3.29 times – QIB – 4.68 times, NII – 0.45 times, Retail – 3.51 times
Day 2:  IPO subscribed 75% overall –  QIB – 82%, NII – 3%, Retail – 168%
Eris Lifesciences, the pharma company is coming up with its IPO on 16th June 2017.
Issue Details of Eris Lifesciences IPO:  
IPO Open :  16th June – 20th June  2017

Issue Price band: Rs 600-603 per share

Issue Size: Rs 1732 crores  ( XX  Shares)

Market lot :  24 shares

Minimum Investment:  Rs 14472 (Upper band)

Book Running Lead Managers :  Axis

Registrar – Link Intime

Listing: BSE/NSE
IPO Issue Allocation
Qualified institutional buyers (QIBs) –  75% of the total issue size.

Non-institutional investors (NIIs) –  15% of the issue size.

The retail quota limit in the issue = 10% of the issue size.
Background
Eris Lifesciences Limited develops, manufactures and commercializes branded pharmaceutical products in select therapeutic areas within the chronic and acute categories of the Indian Pharmaceuticals Market (IPM), such as: cardiovascular; anti-diabetics; vitamins; gastroenterology; and anti-infectives. The chronic and acute category of the IPM contributed 64.2% and 35.8% of the revenues, respectively, in Fiscal 2016.
The company was ranked 21 out of 353 domestic and multinational companies present in the chronic category of the IPM, in terms of revenues for Fiscal 2016.
It was also the fastest growing company, in the chronic category, among the top 25 companies in terms of revenues. Its revenues from the chronic and acute category grew at a CAGR of 33.9% and 20.1%, respectively, between Fiscals 2012 and 2016.
The company's product portfolio comprised of 56 mother brand groups, not including its acquisitions. Sales in metro cities and class 1 towns, together accounted for 75.7% of the revenues in Fiscal 2016, as a majority of specialists and super specialists are based in these metro cities and class 1 towns. Between Fiscals 2012 and 2016, there has been an increase in the number of doctors prescribing its products from 24,606 (constituting 9.3% of doctors in metro cities and class 1 towns in India) to 49,476 (constituting 16.0% of doctors in metro cities and class 1 towns in India) and also increase its share in prescriptions from 0.9% to 1.2% over the same period.
Effective July 1, 2016, Eris Lifesciences acquired trademarks in relation to 40 brands, from Amay Pharma, previously known as Aprica Pharmaceuticals Private Limited), in order to grow its product portfolio in the cardiovascular and anti-diabetics therapeutic areas. Further, it acquired 75.48% shares of Kinedex which primarily focuses on products catering to mobility related disorders in the musculoskeletal therapeutic area.
The company owns and operates a manufacturing facility in Guwahati, Assam. It  also outsources the manufacturing of certain of its products, and currently use approximately 20 third party manufacturers. The company received the 'Competitive Strategy Leadership' award for 2013, from Frost & Sullivan and its Promoter, Chairman and Managing Director, Amit Indubhushan Bakshi, was recognized as the 'Entrepreneur of the Year, 2013' by Ernst & Young.
Promoters holdings:
The list of the top shareholders of the company and the number of equity shares held by them is as below:
Amit Indubhushan Bakshi : 39.97%

Bhikhabhai Chimanlal Shah : 9.04%

Rakeshbhai Bhikhabhai Shah : 11.53%

Botticelli : 16.25%

Himanshu Jayantbhai Shah : 5.07%

Inderjeet Singh Negi : 5.07%

Rajendrakumar Rambhai Patel : 5.07%

Kaushal Kamlesh Shah : 4.00%

Hetal Rasiklal Shah : 4.00%
Objective of the issue:
The Issue comprises of a Fresh Issue by the company and an Offer for Sale by the selling shareholders. The objects of the Offer are to achieve the benefits of listing the Equity Shares on the Stock Exchanges and for the sale of up to 28,875,000 Equity Shares by the Selling Shareholders. Further, the company expects that listing of the
Equity Shares will enhance its visibility and brand image and provide liquidity to its shareholders. Listing will also provide a public market for the Equity Shares in India. The company will not receive any proceeds from the Offer and all the proceeds will go to the Selling Shareholders, in proportion to the Equity Shares offered by the respective Selling Shareholders in the Offer for Sale.
Anchor Investors:  Eris Lifesciences raises Rs779.4 crore from anchor investors. Institutional investors who participated in the anchor book allocation included Abu Dhabi Investment Authority, Goldman Sachs India Ltd, Morgan Stanley India Investment Fund Inc., SBI Magnum Balanced Fund, SBI Magnum Midcap Fund, Birla Sun Life Balanced, FIL Investments (Mauritius) Ltd, Merrill Lynch Markets Singapore Pte Ltd and IDFC Premier Equity Fund.
Financials:

Valuation as compared to its peers:

Brokerage Recommendations:
Should you invest: 
The issue (on upper band) is priced at Rs 603 and have EPS(2017) is 17.61 that gives a PE ratio of 34, which looks little bit expensive but there are many plus points as well.  The company is debt free, strong growth and margin, focussed on domestic market so no FDA issues etc.
Investor may consider investing in this IPO for listing gains as well as long term investment.
[xyz-ihs snippet="ad1″]
Disclaimer:  The articles or analysis on this website should not be constituted as Investment advice. Please consult your financial advisor before making any investments.