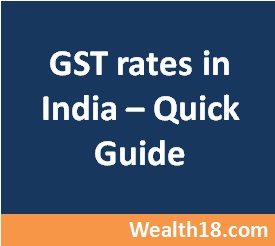 Quick Guide for GST rates for India in 2017
Here is the complete updated list:
Gold and rough diamonds do not fall under the current rate slab ambit and will be taxed at 3% and 0.25% respectively.
No tax
Goods
No tax will be imposed on items like Jute, fresh meat, fish chicken, eggs, milk, butter milk, curd, natural honey, fresh fruits and vegetables, flour, besan, bread, prasad, salt, bindi. Sindoor, stamps, judicial papers, printed books, newspapers, bangles, bangles, handloom, etc.
Services
Hotels and lodges with tariff below Rs 1,000, Grandfathering service has been exempted under GST.
5% Tax Rate
Goods
Items such as fish fillet, Apparel below Rs 1000, packaged food items, footwear below Rs 500, cream, skimmed milk powder, branded paneer, frozen vegetables, coffee, tea, spices, pizza bread, rusk, sabudana, kerosene, coal, medicines, stent, lifeboats will attract tax of 5 %,
Services
Transport services (Railways, air transport), small restraurants will be under the 5% category because their main input is petroleum, which is outside GST ambit.
12%  Tax rate
Goods
Apparel above Rs 1000, frozen meat products , butter, cheese, ghee, dry fruits in packaged form, animal fat, sausage, fruit juices, Bhutia, namkeen, Ayurvedic medicines, tooth powder, agarbatti, colouring books, picture books, umbrella, sewing machine, cellphones will be under 12 % tax slab.
Services
Non-AC hotels, business class air ticket, fertilisers, Work Contracts will fall under 12 per cent GST tax slab
18%  tax rate
Goods
Most items are under this tax slab which include footwear costing more than Rs 500, Bidi Patta, Biscuits (All catogories), flavoured refined sugar, pasta, cornflakes, pastries and cakes, preserved vegetables, jams, sauces, soups, ice cream, instant food mixes, mineral water, tissues, envelopes, tampons, note books, steel products, printed circuits, camera, speakers and monitors.
Services
AC hotels that serve liquor, telecom services, IT services, branded garments and financial services will attract 18 per cent tax under GST.
28% tax rate
Goods
Bidis, chewing gum, molasses, chocolate not containing cocoa, waffles and wafers coated with choclate, pan masala, aerated water, paint, deodorants, shaving creams, after shave, hair shampoo, dye, sunscreen, wallpaper, ceramic tiles, water heater, dishwasher, weighing machine, washing machine, ATM, vending machines, vacuum cleaner, shavers, hair clippers, automobiles, motorcycles, aircraft for personal use, will attract 28 % tax – the highest und ..
Services
5-star hotels, race club betting, cinema will attract tax 28 per cent tax slab under GST
Read my other post on Stocks and Sectors that could benefit from GST
Update: 11th June :  The council revised rates on 66 items such as pickles, sauces, fruit preserves, insulin, cashew nuts, insulin, school bags, colouring books, notebooks, printers, cutlery, agarbattis and cinema tickets: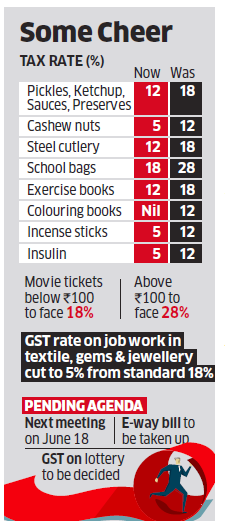 A number of household items in the packaged food category that had been placed in the 18% bracket such as pickles, mustard sauce, ketchups, fruit preserves and sandwich toppings will now attract 12% GST.
The rate on agarbattis has been lowered to 5% from 12% proposed earlier. School bags will face a rate of 18% instead of 28%, exercise books will attract 12% instead of 18% and colouring books will be exempt instead of 12% proposed earlier. Steel cutlery will attract 12% instead of 18% and computer printers 18% instead of 28%. Fly ash bricks and blocks will attract 12%.
Movie tickets costing below Rs 100 will now attract 18% GST while 28% will continue for those over Rs 100
For workers in industries such as textiles and, gems and jewellery, where they take work home, a GST rate of 5% will be charged instead of the 18% standard rate on outsourcing.