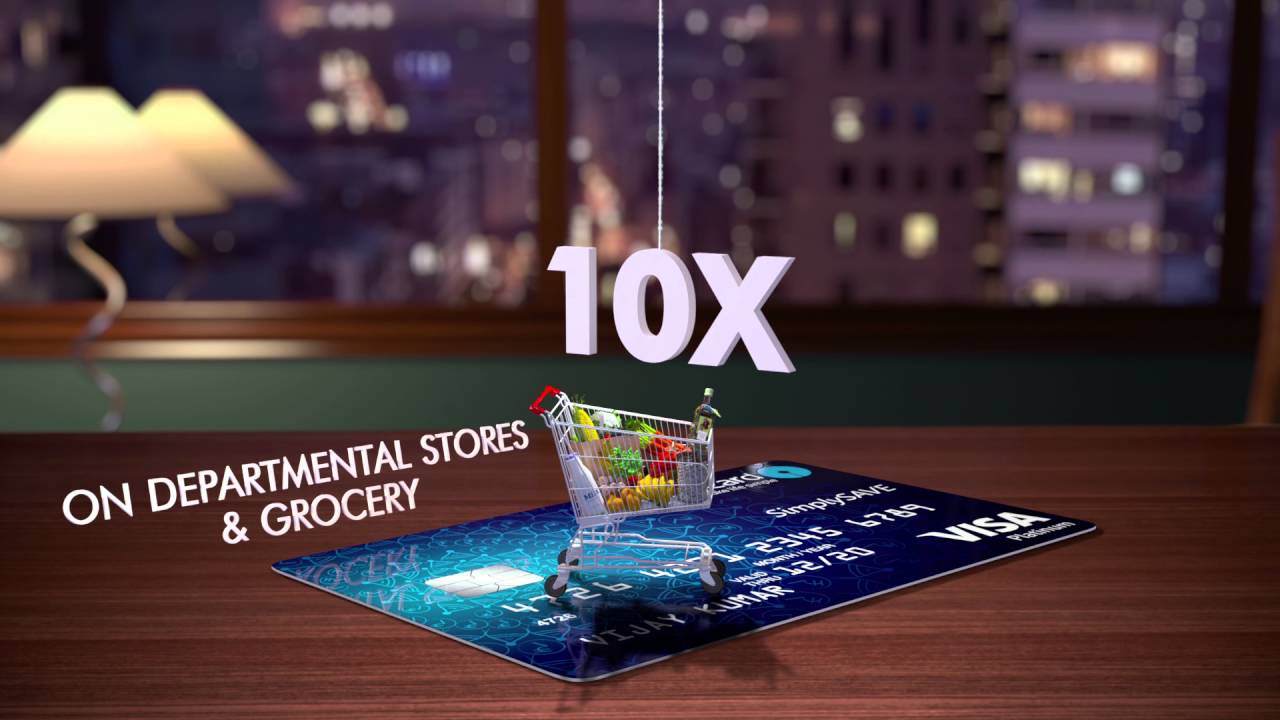 SBI SimplySAVE  credit card is credit card offered by SBI which gives additional reward points for dining, movies, groceries (worth 2.5% rewards points).
SBI SimplyCLICK Credit card Benefits
Welcome Benefit
Spend Rs. 2,000 or more in first 60 days and get 2,000 bonus Reward Points (Rs 500 worth of points)
Fuel Surcharge
1% Fuel Surcharge Waiver on transaction amount ranging from Rs.500-Rs.3000 across all petrol pumps. (Govt. Service Tax extra, as applicable). Maximum Surcharge Waiver of Rs.250 per month, per credit card account
Rewards Collection
Enjoy 10 Reward Points per Rs 100 spent on Dining, Movies, Departmental Stores and Grocery Spends (2.5%  worth of points)
Earn 1 Reward Points per Rs. 100 on all other retail spends  (0.25%  worth of points)
Rewards Redemption
SBI point value is approx Rs 0.25  (as you get redeem 4 points for a Rs 1)

SBI points value –  Based on the earned points and redemption value  – you will get a cashback of upto 2.5%  on specialised purchases and 0.25% on nomal purchases.
SBI Card SimplySAVE Credit Card Eligibility :   Applicant should be 21+ with stable monthly income.
Fees
Annual Fees (One time): Rs 499  (welcome gift worth Rs 3000)

Renewal Fee (per annum) : Rs 499 ( Spend Based Reversal of Annual Fee on spends of Rs. 1 Lakhs)
How to Apply – See the direct link at SBI website
Summary
This is a low fee credit card  that gives additional reward points offered are  for dining, movies, groceries (worth 2.5% rewards points).
There are many credit cards offered by SBI  with different features including discount on movies, groceries, dining as well as air travel and hotels, free international and domestic lounge access. Some of the cards offers excellent redemption rewards. See list of all credit cards offered by SBI and check which one you should go for