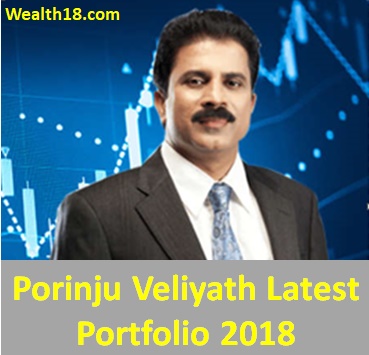 Porinju Veliyath, MD & Portfolio Manager of Equity Intelligence India is a prominent Indian investor and his has focus on identigying quality mid cap and small cap stocks.
You can also check the portfolio of other big investors –
July 2018 – Due June 2018 qtr,  Porinju Veliyath increased stake in Emkay Global Financial to 1.22 % from 1.06%  earlier. He bought 40,000 shares in the company during the quarter gone by. 
April 13 2018 –  EQ india Fund run by Porinju picked 1.5 lakhs shares of Agro Tech Foods  @ Rs 650 
April 2 2018 – Prinju sazid he likes healthcare insurance (HDFC, ICICI) IDFC,  Consumption stocks like Godrej Industries, Tata Global Beverages, Indian Hotels, Godrej Agrovet
April 17 2018 –  Porinju picked large stake in ITC @ Rs 267 . He also likes Tata Global Beverages, Tata Coffee, Indian Hotels.
Must :  See Portfolio / Recommendations from  Rakesh Jhunjhunwala,  Porinju Veliyath, Dolly Khanna,  Ashish Kacholia
Porinju Veliyath Latest Portfolio (where he holds more than 1% of the company)
Company

No of Shares (in Lakhs)

Rs Crore

VEDAVAAG Systems

1.5

1

Balkrishna Paper Mills

1.1

1

JITF Infralogistics

2.75

1

Palash Securities

1.01

1

Raunaq EPC International

0.5

1

Parnax Lab

1.05

1

BCL Industries & Infrastructures

2

3

Sarda Plywood Industries

1.59

3

Emkay Global Financial Services

2.6

6

IZMO

1.5

2

EQUITY INTELLIGENCE INDIA PRIVATE LIMITED

Company

No of Shares (in Lakhs)

Rs Crore

Raunaq Automotive Components

1

1

Hind Industries

5.8

1

Palred Technologies

1

1

Ansal Buildwell

1.5

1

Eastern Treads

1

1

Vista Pharmaceuticals

3.1

1
Must :  See Portfolio / Recommendations from  Rakesh Jhunjhunwala,  Porinju Veliyath, Dolly Khanna,  Ashish Kacholia
In addition to above, he may also be holding following stocks (but may be  less than 1% of company):
Jubilant Life Sciences

V2 Retail

Flex Foods

Tara Jewels

Tear Software

Global Spirits

Alpa Lab

Arvind SmartSpaces
Porinju Veliyath has recommended 10 potential multibagger stocks for investment in 2017
 Stocks
CMP (3-Jan-2017)
52 week High
52 week low
Other recent recommendations

J Kumar Infra

217

399

106

Axis Direct – 300




Prabhudas – 253, 285




Edelweiss – 372

Sunil Hitech

12.88

23

7.75

 

Texmaco

116

170

90

 

Titagarh Wagons

131

166

84

 

Saksoft

290

452

143

 

RS Software

112

147

57

 

Datamatics,

138

147

41

 

HSIL,

281

369

224

Arihant – 431

Transport Corporation of India

156

388

144

 

Orient Cement

128

241

115

SPA – 237

Talwalkars

241

302

182

Way2wealth – 348

Bengal and Assam Company

1047

1335

410

 

Bombay Burmah Trading Corporation

527

673

311