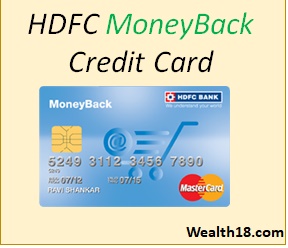 HDFC Bank MoneyBack Credit Card will get you some exclusive features and benefits. It is a super-saver card which gives you Instant CashBacks on every single spend.
HDFC MoneyBack Credit card Benefits
---
Cashback Offers
500 Cash Points (applicable only on payment of membership fee)

Every quarter, get a gift voucher worth Rs. 500 on spends of Rs 50,000. Earn up to Rs. 2,000 worth gift vouchers in a year. Click here for more details.​​​​​​​  As per the current program, a customer can choose (any one per quarter) from e-vouchers of  Dominos, Book My Show, Big Bazaar, Bata, Levis, Woodland, Mainland China, and Myntra
---
Dining Benefit: Enjoy amazing dining benefits with Good Food Trail program (T&C)
You can get complimentary Dineout passport membership (different criteria for different credit cards – full detail in the link below)
Assured flat 25% off at 2000+ premium restaurants

1+1 on buffet at 200+ restaurants

1+1 on Food / Drinks on select restaurants

Zero convenience fee

Early access to events and festivals such as GIRF
Get upto 20% off on all your bill payments via Dineout Pay (10k + restaurants)
See full details of HDFC DineOut Passport offer and DineOut pay discount details.
---
Fuel fees Waiver:
1% Fuel Surcharge waived off on fuel transactions ( Minimum transaction of INR 400, Maximum Cashback of INR 250 per statement cycle).
Rewards Collection
---
2 Reward Points on Rs. 150 spent.

100% more Reward Points on online  spends  (i.e. 4 points for Rs 150 spent) . Customers can earn up to 500 Reward Points per statement cycle for online spends, under the 2X RP feature)

upto 5% cashback on HDFC SmartBuy Site (on Flights, Hotels, Rail, Amazon, Flipkart, Instant Vouchers etc)
---
Other Offers:
500 Cash Points (applicable only on payment of membership fee)

Every quarter, get a gift voucher worth Rs. 500 on spends of Rs 50,000.
Rewards Redemption
---
Redeem Reward Points as CashBack against outstanding amount on your Credit Card (100 Reward Points = Rs. 20)

Reward Points against air miles – 100 Reward Points = Rs. 25)

Redeem points against the rewards catalogue 

(approx 100 points =  Rs 25 )
Approx. cashback of 0.33% on normal spending and  Approx. cashback of 0.66% on online spend,

Cashback of of 5% on SmartBuy spending

Additional 1% in form of e-voucher if you hit the quarterly spending
HDFC Moneyback Card Eligibility :  
---
Eligibility for HDFC Bank Millenia Card is reasonable.
For Salaried :  Gross Monthly Income> ₹25,000

For Self Employed : Income: ITR > ₹6.0 Lakhs per annum
Fees
---
Joining / Annual renewal membership fee is Rs 500 

Spend ₹20000 & above in the first 90 days and get first year membership fee waived off.

Spend ₹50,000 and above in the first year and get renewal membership fee waived off
---
This card is a good entry level card (as eligibility is only Rs 25000 monthly income) and offers 5% cashback on Smartbuy, 1.66% cashback on online spend & 1.33 % cashback on offline spend. 
HDFC Millenia Card has similar features but it also has free lounge access. So, you should also look at the HDFC Millenia features.  HDFC Moneyback card annual fees is waived off id you spend Rs 50000 annually, but the HDFC Millenia Card fees will be waived off if you spend Rs 1 lakh annually. So depending on your spend, you can choose HDFC Moneyback card or HDFC Millenia Card.
---
There are many credit cards offered by HDFC bank with different features including discount on movies, groceries, dining as well as air travel and hotels, free international and domestic lounge access. Some of the cards offers redemption rewards equivalent to 13%-33% cashback, that's pretty amazing. See list of all credit cards offered by HDFC Bank and check which one you should go for.