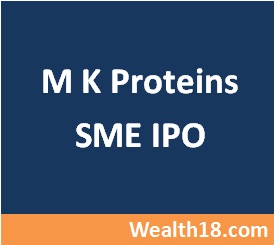 M K Proteins Limited engages in manufacturing and trading of edible oils. The company offers refine rice bran, sunflower, cotton seed, soya bean, palm, canola, and rice bran bleached oils. 
Issue Details of MK Proteins SME IPO
Issue Open :  31st March to 7th April 2017

Issue Price / Floor Price : Rs 70 per share

Issue Size: Rs 10.234 crores (14,62,000 Equity Shares)

Application per share :  Rs 70

Minimum No of shares bid:  2000 shares / Rs 140,000

Maximum Retail investment – 2000 shares

Book Running Lead Managers : Sarthi Capital Advisors

Registrar – Bigshare Services Pvt Ltd

Listing: NSE SME
Ongoing SME IPO – Read reviews
About the Company
The company started in 2012. It is manufacturing and trading organization having its production/refining plant of Edible Oils. Our manufacturing process involves refining of Crude Oils to obtain Refined Rice Bran Oil, Canola Oil, Soya Bean Oil, Sunflower Oil and Rice Bran Bleached Oil. During the refining process certain by-products are also manufactured such as Rice Bran Fatty Acid Oil, Rice Bran Wax, Gums and Spent Earth which are also saleable. Further, we also import crude oils, process them and sell the finished product. We also trade in both edible and non-edible oils.
In the year 2014-15, the Company had further expanded its manufacturing capacity from 120 TPD to 250 TPD by investing a sum of Rs. 383.31 Lakhs towards Plant & Machinery, Boiler and Generator Set which came into commercial production w.e.f September 26, 2014.
Our Company had got its Long-Term Bank Facility rated from CRISIL which had given a rating of A-/Stable. It was arrived at by combining the business and financial risk profiles of our Company, Shree Ganesh Fats Private Limited, Shivalik Steel and Alloys Private Limited and Kamla Oleo Private Limited, our Group Companies. The business and financial risk profiles of these companies were combined because they have similar business, fungible cash flows and common promoters/management.
Financials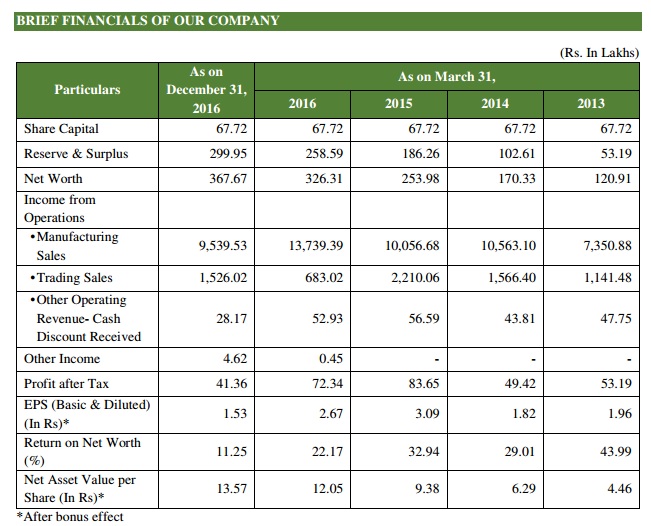 | | | | | | |
| --- | --- | --- | --- | --- | --- |
| In crores | 2013 | 2014 | 2015 | 2016 | Apr-Dec 2016 |
| Income | 85.40 | 121.73 | 123.23 | 144.75 | 110.98 |
| PAT | 0.78 | 0.73 | 1.22 | 1.05 | 0.60 |
| | | | | | |
Summary – While the company has been making profits in last 5 years, but there is no significant growth in turnover & profit.  Investors may want to avoid this IPO or invest for long term